Sochi 2014: A beginner's guide to the ski jumping events
Last updated on .From the section Winter Olympics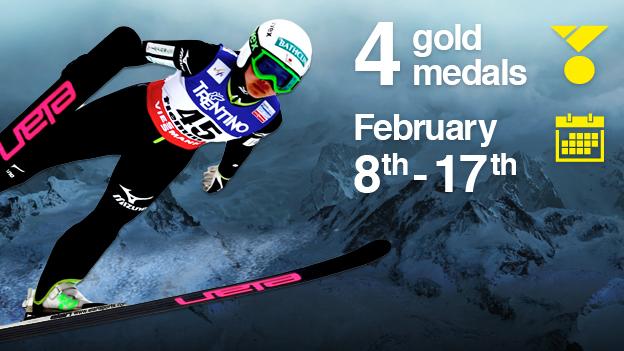 The sport in brief
Few sports are more spectacular. Competitors jump further than the length of a football pitch at speeds of 60mph, so power, balance and an unflinching resolve are vital.
It's not just about distance - points are also awarded for style.
Each competitor has two jumps which count towards the final standings.
British prospects
No British jumper has qualified for Sochi.
Global gold-getters
Switzerland's Simon Ammann won the normal and large hill events at both the 2002 and 2010 Games. His biggest threats are Poland's Kamil Stoch, world champion in the large hill, and Austria's Gregor Schlierenzauer, who won two individual bronzes in Vancouver as a 20-year-old.
Austria and Germany are the leading contenders in the team event, while Japan's 17-year-old Sara Takanashi is red-hot favourite for the inaugural women's title.
What's new for Sochi 2014?
Women's ski jumping will make its Olympic debut, 16 years after first petitioning for inclusion. The IOC had previously argued there were not enough elite competitors for women to warrant a place.
There's also an Olympic debut for the wind and gate compensation system - a formula used to adjust scores after taking into account advantages or disadvantages from a change in the wind conditions or starting position; think of it as ski jumping's version of cricket's Duckworth-Lewis method.
Pub bore
Former England football manager Sven Goran Eriksson had a passion for ski jumping as a teenager and his best leap of 75 metres is four metres further than Great Britain's most famous ski jumper, Eddie the Eagle, managed at the Winter Olympics in 1988.
Previous British medallists
Total: None
Highest position: 43rd (Glynn Pedersen; men's normal hill, 2002)