Sochi 2014: A beginner's guide to the bobsleigh events
Last updated on .From the section Winter Olympics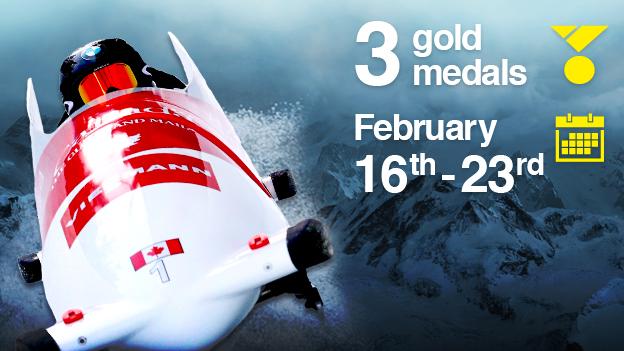 The sport in brief
There are two-man, four-man and two-woman competitions. After a sprint start, the pilot finds the best racing line down the 1.5km course using the bobsleigh's steering mechanism, while crew-mates help by shifting their bodyweight during corners.
All events feature four runs, each timed to a hundredth of a second. Only the fastest 20 crews qualify for the final run, and the team with the lowest aggregate time wins.
British prospects
Britain's leading four-man crew, led by Royal Marine John Jackson, have a medal chance - they won World Cup silver in December and were European Championship runners-up in January.
Women's pilot Paula Walker, an army corporal who is Jackson's partner, may end in the top 10 but a medal is unlikely.
There's little pressure to succeed on Lamin Deen, pilot of GB 2's four-man crew and the sole two-man bob.
Global gold-getters
The USA, led by Olympic champion Steven Holcomb, are leading contenders in both the two and four-man event, while Germany's four-man team, led by Maximilian Arndt, are reigning world champions.
Canada's Kaillie Humphries has dominated women's bobsleigh since her Winter Olympic gold in Vancouver in 2010.
What's new for Sochi 2014?
The competition format remains unaltered.
Pub bore
Russian bobsleigher Alexey Voevoda, 33, is a three-time arm wrestling world champion who featured heavily in a 2009 documentary about the discipline.
The Sochi native, twice a Winter Olympic medallist, has reportedly dieted on raw vegetables for the last two years and says he will return to arm wrestling following the Games.
Previous British medallists
Total: Four (one gold, one silver, two bronze)
Most recent gold: 1964 (Anthony Nash and Robin Dixon; two-man)
Most recent medal: 1998 (Sean Olsson, Dean Ward, Paul Attwood, Courtney Rumbolt; four-man)