Sochi 2014: Can Andrew Musgrave upstage world's best?
By Ollie Williams
BBC Olympic sports reporter
Last updated on .From the section Winter Olympics
"I've got a massive advantage compared to the Norwegian guys. I'm from Britain."
Not words you hear in cross-country skiing.
Nobody has an advantage over Norway, the world's leading nation, a country which treats the sport the way the United Kingdom worships football.
But those words are coming out of Andrew Musgrave's mouth. And now, in a comic Norwegian accent: "Oh, a British guy. He can't ski."
They may have said that on the start line at this month's Norwegian national championships. If they did, they fell into Musgrave's trap - they underestimated a British man on skis.
By the end of the race, the Scot was up and down the nation. He won the race, beating a field full of Norway's own Olympic medal prospects.
"It was a bit funny reading all the papers," says the 23-year-old. "They said, 'the Norwegian team must be in terrible shape because they've all been beaten by some British guy, and they don't even have snow in Britain'. But it feels good."
A year earlier, they said when Musgrave finished second. Either Norwegian skiing is in freefall or Musgrave is on the up.
He can read the papers because he speaks the language, having moved to Norway as a teenager. He lived in Lillehammer before starting a civil engineering degree in Trondheim. His classes are in Norwegian.
"If I wanted to start studying in Norway then I knew I had to learn the language," he says.
Being fluent helped his skiing too, and that is the real reason why Norway is home.
"If you want to be the best you've got to train with the best, and if they don't come home with medals then they've done something terribly wrong," he says. "I wanted to go to the place that was known for being the best country in the world and that was Norway.
"As soon as I came here, I got more time on snow and one-to-one coaching. I feel I'm half-Norwegian now. At least, they treat me as if I'm Norwegian."
Norwegian skier Petter Halseth, eating dinner with Musgrave in Trondheim, chimes in. "When he came, we were excited to see if he was any good. He proved to be a very good skier, and he's a great guy.
"He's a 'little Norwegian'."
Musgrave races for a private Norwegian team, hence his appearance on the start line at their national championships. In winning the sprint event - his focus for Sochi 2014 - not only did he shake up the Norwegians, he introduced himself as an outside prospect for an Olympic medal.
"It definitely puts me on the radar of other people," he admits. "Maybe it'll make it more difficult for me now, they know they've got to watch out for me. But I think I've got a good chance.
"The course in Lillehammer [at the nationals] was pretty similar to the course in Sochi - long, big hills and pretty hard for a sprint course. That's what I've been training for this year and it seems like the training has paid off."
Musgrave manages much of his own time but is not short of coaches. His private team monitors his progress and he has Roy Young, the British head coach, overseeing his preparations for the Games.
He also has the Scottish Institute of Sport engineering some of his strength and conditioning. Therein lies another reason you might rather be British than Scandinavian.
"A lot of the guys coaching in Norway raced at a very high level and obviously were successful, so they tend to bring with them a lot of what they did," explains Young.
"I think the Norwegians haven't quite - I probably shouldn't tell them this - we think our strength training has been much more systematic and advanced than we see in the equivalent skiers in Norway."
As a result, Musgrave says he feels "much stronger and faster" four years after finishing 58th in the sprint as a teenage debutant at Vancouver 2010.
His older sister, 27-year-old Posy, will also compete as a British cross-country skier in Sochi. While Andrew was slaying the pride of Norwegian skiing in Lillehammer, Posy was racing at the Swiss championships. Later, she watched a replay of his win on TV.
"The best guys in the country were there and he just skied away from them, no-one could respond," she says. "Watching it was amazing, seeing the astounded Norwegian commentators.
"We spoke after he won. He said it 'wasn't too shabby'. That's about all I got from him, but I've never seen him smile quite so much after a race."
The Musgrave siblings grew up in a close-knit band of British Nordic skiers, almost all of whom came from the same Huntly cross-country club in Aberdeenshire, and who have together become the current British senior team.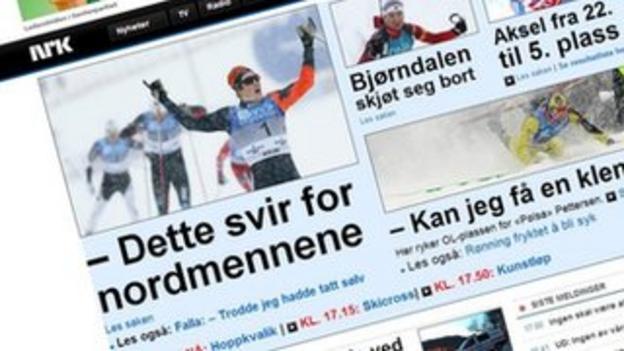 "That's where the Norwegians are taking a leaf out of our book," says Young. "They've looked at how we nurtured our good skiers, we kept them together as a group and worked with them.
"The Norwegians are now rolling out that system. We produced this family unit and that's what they're trying to produce with their teams now."
Young has long been the head of the family. His son, Andrew Young, is on the team and going to the Games. He was the coach at Huntly when his charges were young teenagers; now he is the national head coach.
He, more than anyone, knows the skiing character of Andrew Musgrave. "Muzzy is just an amazing competitor. Everybody involved in cross-country in Britain has got to be totally mad. To try to be competitive, from Britain, is mad."
"When it comes to the Olympics it'll be different," says Posy. "We can't get over-excited and talk about him being a medal winner already. Realistically, he can probably achieve more in four years' time.
"But he has shown that, on his day, he can be as good as anyone in the world."