Sochi 2014: Blue Peter's Radzi Chinyanganya on the skeleton
Last updated on .From the section Winter Olympics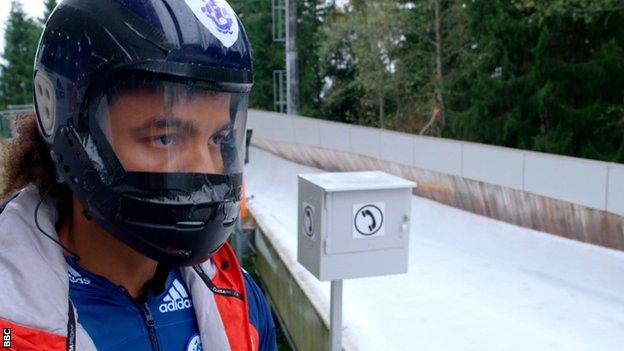 From slick-bottomed sleds to sticky-backed plastic, Radzi Chinyanganya has had quite a journey. Now a Blue Peter presenter, the 26-year-old could instead have appeared on the BBC this winter as part of Great Britain's squad for Sochi 2014.
Here he tells BBC Sport how he almost represented his country in skeleton, and was reunited with the sport after a three-year absence:
You couldn't feel more alive than when you finally get to stand at the top of the run and prepare to go down.
Every sinew in your body is saying 'panic'. Your instinct is either to fight or take flight, and neither helps.
When you are going down, it is like a racing game on a computer. Everything is happening so fast all you want to do is pause and reset.
You have an urge to scream and let out that tension and emotion, but you have to focus on what is coming up next. There will be big consequences if you don't.
And then, when you finally come to a stop, you just want to do it all over again.
Skeleton is an addiction for me.
It's a journey that started when I competed on Gladiators on Sky One in 2008.
One of the other contenders was a Great Britain skeleton coach called Greg Kirk. He said my speed and agility could work quite well in the sport and invited me to Bath, where they have a push track.
It was just a short concrete run with a bungee cord that catches you at the bottom, but the speed was amazing.
As soon as that bungee caught me for the first time, bringing me from top speed to a standstill in two metres, I knew this was exactly what I wanted to do.
I got an athletics coach to work on my sprinting, my times kept improving and I finally got invited to go and try it out on the ice for the first time in Winterberg, Germany at the Great Britain try-outs.
It was just pure sensory overload. When your chin is just a couple of inches off the ice, that changes the game entirely.
You do a lot of work beforehand to memorise the layout of the track and the corners, but all that preparation goes out of the window as all this information floods into your brain.
The strange thing is you have to learn to look beyond it, be comfortable with it and realise you don't need it all.
On television it looks as if the runs are as smooth as marble, but when you are heading down you feel as if you are in a washing machine on the spin cycle.
But when you find the right line, and feel the pressure slingshot you out of a corner, there is not a feeling in the world like it.
After Winterberg, I committed myself full-time to the sport, working on a flexi-hours contract doing sport development at Loughborough University, doing as many hours as I could and then spending about £1,000 a week on trips away to practise.
I took myself to Lillehammer in Norway and Salt Lake City in the United States - and it culminated in full Great Britain trials in Lillehammer.
I was ninth fastest, which I thought would be good enough to represent Great Britain in the third-tier Europa Cup. Sadly it wasn't.
The coaches were really impressed and wanted me to come back next year, but I couldn't commit to another year of living essentially on the breadline when I might not be good enough again.
Outside of the Great Britain set-up, I wouldn't have been getting as much time on ice as those who were and the gap could have widened to a gulf.
It was also around that time that I started presenting on television and radio.
I'm grateful for the experience, though, not only because I have made some phenomenal friends, but also because I got my job presenting CBBC show Wild because they were looking for a presenter with an extreme sport background.
That role helped me get the job presenting Blue Peter and things came full circle when I went to Igls in Austria a couple of months ago to get back on the sled.
I had been off it for three years and it felt completely alien to me.
I felt a little bit like a boxer who could see the punches coming towards me, but could not get out of the way of them!
But I had a very good trainer in Mark Wood, and inside a day I was going from the top of the run again.
I had a small microphone with me on the way down and for the first three corners, it was fantastic commentary. For the rest of it, I was just exhaling hard and grunting!
I managed to get though it in one piece and convey the joy of the sport.
I will be glued to my screen for all of the Winter Olympics, even for the training runs.
Lizzy Yarnold, who won the World Cup this month, could do something really special. With her and Shelley Rudman, we have a genuine chance of two female medals in skeleton.
That we - as a country without its own ice track - are even talking about that is testament to the set-up they have at British skeleton.