Sochi 2014: British-born Ben Cavet to compete for France
By Rob Stevens
BBC London & South East Sport
Last updated on .From the section Winter Olympics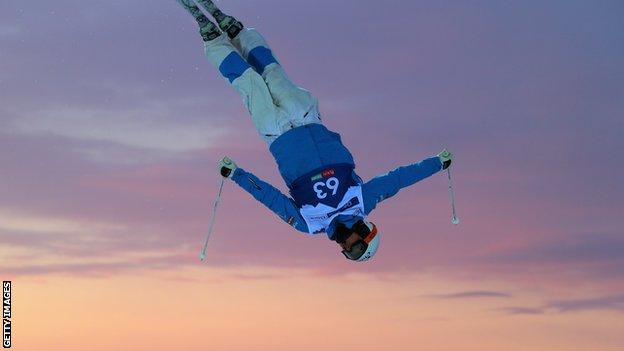 Ben Cavet, a mogul skier from Sussex, has been selected to compete for France at the Winter Olympics in Sochi.
Cavet, from Crowborough, has competed for France on the World Cup circuit this season.
"The Olympics are the most important event in mogul skiing. It's a great achievement," he told BBC Sport.
Cavet was included in the French squad for Sochi in their team announcement on Monday.
"I knew there'd be three or four quota spots for France in moguls and at the beginning of the year I was the third French mogul skier," he added.
"This year, with slopestyle and halfpipe being added as Olympic disciplines, it made the selection tough.
"We were competing against those skiers as there is a total number of spots given to the freestyle skiers. You had to do better than them."
Maidstone-born Cavet moved to France as his father is a ski instructor in Les Gets. He lives in La Cote d'Arboz, in south-east France, and currently represents the Chatel club.
He came second in the junior world championships in 2011 and won the French national championships in 2012 and 2013.
"I started in a French club and moved up the rankings," he explained. "I then moved to a regional club and got put in the French team while I still had British nationality. It seemed natural for me to want to represent France in international competitions.
"I definitely feel French, especially while skiing, as I have always done that in a French environment."
Cavet made his debut on the World Cup circuit in 2011 and has competed at six World Cup events this season, with his highest finish a 16th place in Deer Valley on 11 January.
He has set his sights on making the final in Sochi.
"The top 10 would be my goal," he said. "It is a one-day event so anything can happen. We have got lots of training out there before the event so I have got time to be well prepared, do my big jumps and get ready.
"Moguls skiing is quite harsh on the body. It is a short career and you have to make the most of it.
"Hopefully I will make at least two Olympics. In 2018 I'll be at prime age. I look to get some experience in Sochi and then really go for a medal in 2018."
Great Britain has not selected any athletes for the moguls, with Ellie Koyander missing out on a place in Russia.
Team GB's freestyle skiing squad comprises Rowan Cheshire, Emma Lonsdale, James Machon and Murray Buchan for ski halfpipe, with Katie Summerhayes and James Woods selected for ski slopestyle.
Cavet could represent Great Britain in the future, but in order to do so he would be forced to sit out two seasons of competition under International Ski Federation rules.
A switch back from France is unlikely given the set-up of the respective teams.
"There is a training structure in France for mogul skiing," Cavet said.
"It is a lot easier as I wouldn't have to sort everything out for myself or be on a private structure with my own coach. I just have to turn up and ski really.
"I respect Ellie Koyander a lot because she sorts herself out, has a private coach and is based in America.
"She trains there, it's pretty tough and she does a good job of it."