Sochi 2014: Lizzy Yarnold calm on skeleton medal prospects
By Nick Hope
BBC Olympic sports reporter
Last updated on .From the section Winter Olympics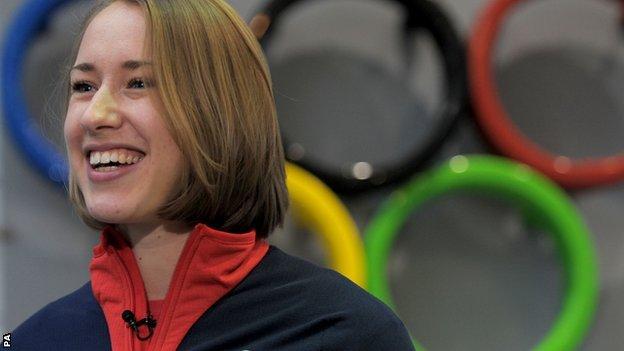 World Cup champion Lizzy Yarnold says she can handle the pressure that comes with being one of Team GB's leading Olympic medal contenders.
"There is a lot of expectation but all I can do is keep calm and focus on the job I can do," Yarnold told BBC Sport.
"Processes for World Cup and Olympics are similar so it's given me the right building blocks to perform."
The slider, recruited to the sport through the UK Sport-backed Talent Identification programme Girls4Gold in 2008, has enjoyed a rapid rise.
She won World Junior Championships gold in 2012 before claiming world bronze later that year, and was fourth in the overall World Cup standings last season.
And she admits her success over the past six months has surpassed even her own expectations.
Yarnold said qualifying for the Olympics was "a dream", but added: "Realising that dream has been a long journey and I haven't really believed in it until this season.
"I knew I had all of the ability but getting on the podium in seven races has given me so much confidence.
"I can't wait now to see what I can achieve in Sochi. I'm going to give it everything."
Great Britain has a history of success in skeleton having secured a medal at each of the five Olympic Games the sport has featured in to sit third in the all-time standings.
David Carnegie claimed the first with bronze at the 1928 St Moritz Games in Switzerland, while now-retired slider Amy Williams won gold in Vancouver four years ago.
Statisticians Infostrada predict Yarnold will emulate that achievement in Sochi, but she is urging a degree of caution.
"The Russians are obviously going to be very strong as they have home advantage and have done hundreds more runs than any athletes out there," said the Bath-based slider.
"Both American athletes [Noelle Pikus-Pace and Katie Uhlaender] competed really well in the World Cup last year then of course there's [British team-mate and world champion] Shelley Rudman - but again anything can happen on the day.
"I'm in great form at the moment with the push start as well as the sliding, and I am completely where I always planned I would be at this moment - so I'm just focusing on myself."
The 2014 Sochi Winter Olympics opening ceremony takes place on 7 February, with Yarnold and Rudman beginning their campaigns on 13 February with the first two runs. The third and fourth runs will take place on 14 February.