Sochi 2014: First British arrivals impressed by venues
By Ollie Williams
BBC Olympic sports reporter in Sochi
Last updated on .From the section Winter Olympics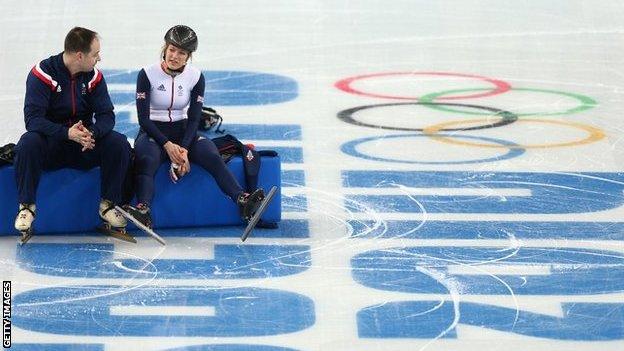 The first Team GB athletes to arrive in Sochi for the Winter Olympics have said they are impressed by the Russian city and its Olympic facilities.
The British short track speed skating team trained inside Sochi's Iceberg arena for the first time on Friday.
"I've been saying to everyone, it's been really good," said leading GB short track medal hope Elise Christie.
Team-mate Charlotte Gilmartin said: "The place is incredible. The lights are so bright, and cameras everywhere."
The Iceberg Skating Palace holds 12,000 spectators and will host both short track and figure skating when the Games begin next week.
The British team competed in a behind-closed-doors test event at the same arena last year, but much has changed.
At the time of the test event, the venue was inaccessible by road as some athletes arrived by tractor.
"It feels so much different this time around," added Gilmartin, 23. "There's an atmosphere about being here."
Performance director Stuart Horsepool said: "It's pretty special. It's big, but then this is Russia. It's an exciting place."
Christie, however, said reaching the venue remained tricky.
The Scot, also 23, told BBC Sport: "The only downfall is the fact you have to walk miles to get to the rink. An hour of walking."
Horsepool said: "It's a long walk [from the athletes' village to the venue]. At the moment, not all the building site is completely finished yet.
"We're looking at how we can shorten that walk, probably with a vehicle that can take us halfway. We're looking into it and over the next couple of days we'll manage to sort it out."
Christie, who appeared at her first Games in Vancouver four years ago, also praised her experience of life in the Olympic village.
"The people have been really nice and the rooms are really good. It's luxury for us short-trackers, really."
A world bronze medallist over 1,000m, Christie admitted she "understands that distance more" than the 500m and 1,500m, but hopes to be competitive in all three at the Games.
Gilmartin races alongside Christie in the 500m and 1,500m, while Jon Eley, Richard Shoebridge and Jack Whelbourne will compete in the men's events.