Sochi 2014: 10 unlikely contenders at the Winter Olympics
By Ollie Williams
BBC Olympic sports reporter in Sochi
Last updated on .From the section Winter Olympics
Some are eccentric. Some are defying the odds. Some fly the flag for unheralded nations.
None of the competitors at Sochi 2014 listed below is your average name on the start list.
They may or may not win medals, but theirs are winning stories of stubbornness, struggle and strange headlines in the run-up to the Winter Games. Here are 2,014 words on 10 intriguing 2014 contenders.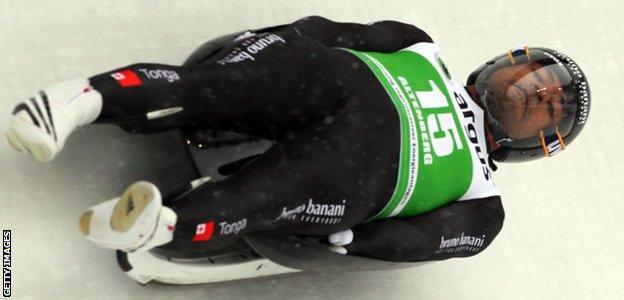 Bruno Banani
Country: Tonga Sport: Luge
They said: "It is of bad taste to change your name to that of a sponsor. That is too much for me. This has nothing to do with proper marketing" - Thomas Bach, now IOC president, in 2012.
Bruno Banani is a German underwear manufacturer. Bruno Banani is also a luger for Tonga. This is not a coincidence.
The circumstances are bizarre. Approached by a guerrilla marketing firm in 2008, Tongan student Fuahea Semi - then 21 years old - agreed to move to Germany, change his name to match that of the underwear giants, and learn to luge. Luge and Germany go hand in hand - no Winter Olympics has ended without a German on the podium.
As part of the marketing ploy, Semi even agreed to pretend his father had been a coconut farmer. Banani, as he became, did not make Vancouver 2010 and reporters later exposed the 'hoax' behind his name and the marketing deal. But his ambition to luge, it transpires, was quite real.
Having since reached three World Championships, Banani successfully qualified for the 2014 Games and will become Tonga's first Winter Olympian.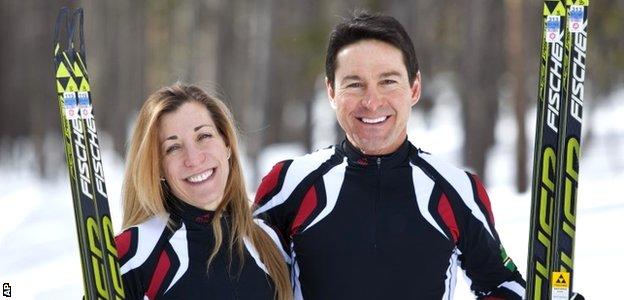 The Di Silvestris
Gary di Silvestri, Angelica Morrone di Silvestri
Country: Dominica Sport: Cross-country skiing
They said: "Our tourism department will make a field day of that" - Thomas Dorsett, Dominica Olympic Committee secretary-general
Gary di Silvestri is 46, from Staten Island, New York state. He and his Italian-born wife Angelica Morrone di Silvestri, 48, are skiers for Dominica.
How? Dominica offered them citizenship as "a kind of thank you" after the country received help from the two philanthropists, known for their work establishing children's hospitals.
Then, as recently as November, the International Olympic Committee came looking for potential Dominican athletes. Here were the Di Silvestris, part-time competitive skiers for many years and proud possessors of Dominican citizenship.
However, they needed to qualify - which led to a frantic couple of months, appearing on start lists next to far younger athletes. Gary told US broadcaster NBC that organisers would double-check their birth years: "1990, '91, '92, '93, all of a sudden '67, '65 - is there a typo here?"
The effort paid off and they are Dominica's first Winter Olympians - with pins to prove it. "Our coach said that's going to be a hot commodity, so we're having them made up. They're going to trade like currency, good as gold."
Yohan Goutt
Country: East Timor Sport: Alpine skiing
They said: "With the civil war, skiing obviously wasn't the main preoccupation of the country."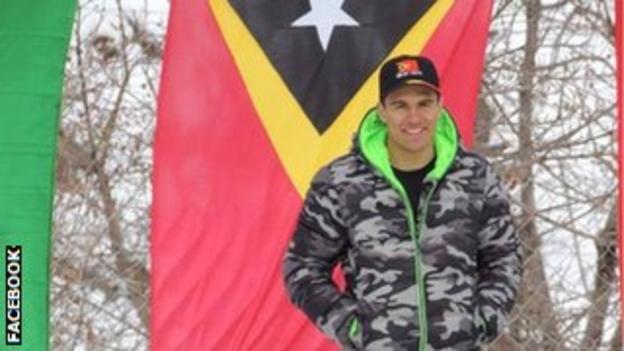 The small Asian nation of East Timor declared independence from Indonesia in 2002, and now a French-born resident of Australia will become its first Winter Olympian.
Yohan Goutt's mother fled East Timor aged 11, just before Indonesia invaded - East Timor having, at the time, only just gained independence from Portugal. With civil unrest gripping the country in 2006 and 2007, nobody paid much attention as Goutt and his mother tried to set up a national ski team. Only in 2012 did they eventually succeed.
"I get messages on my Facebook and my emails that are really strong and passionate," the 19-year-old told Australia's ABC. "Sometimes, I can't lie, a tear was coming to my eye because some were telling me that I was like a country hero. That's a really powerful thing."
Watch out for Goutt, who picked up his skiing talent from his French father in the Alps, in the giant slalom. Residents of Dili, East Timor's capital, won't miss it - their president has requested that Goutt's race be shown on a big screen in the main square.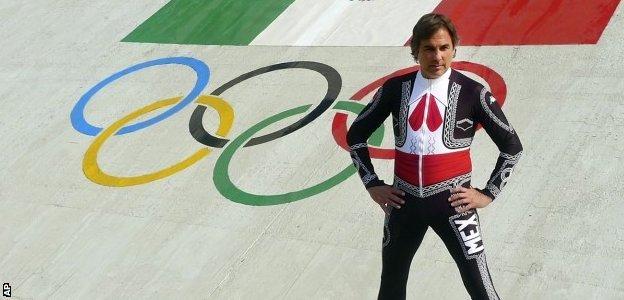 Prince Hubertus von Hohenlohe
Country: Mexico Sport: Alpine skiing
They said: "I can understand how they would think that this rich prince bought himself into the Olympics so that he can show off his cool racing suits, or whatever. I am not hiding behind a pile of money to realise my dreams. I have Mexican roots."
A one-man mariachi marketing machine, Prince Hubertus von Hohenlohe will wear a unique race suit inspired by Mexican folk music at Sochi 2014.
The son of German minor royals but born in Mexico City, with a half-Mexican grandmother, Von Hohenlohe has lived a life that led NBC to dub him "the most interesting Olympian in the world".
His family has its roots in the Fiat and Volkswagen car manufacturers, though his brother died in a Bangkok prison eight years ago. Von Hohenlohe himself is a photographer and musician when not skiing, having founded the one-man Mexican Ski Federation in 1981.
At 55, the prince will become the second-oldest Winter Olympian in history at Sochi 2014. The oldest was a Swedish curler named Carl August Kronlund, born in 1865, who was 58 when he competed at the inaugural Games of 1924.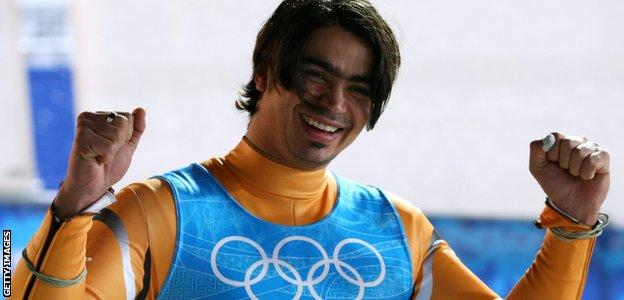 Shiva Keshavan
Country: India Sport: Luge
They said: "We go down the only place we can, which is the mountain highway."
Though India may be his country, 32-year-old Shiva Keshavan will compete as an independent in Sochi, thanks to a long-running row over governance between the International Olympic Committee and Indian officials.
That is by no means the interesting part. Stunning footage exists of Keshavan threading his way down Indian mountain roads lying face-up on a tiny sled, passing goats and sliding underneath trucks, showing the lengths to which he has gone to reach the Games.
Keshavan is, however, an old hand at the Olympics. By the age of 16 he was making his debut at Nagano 1998, and he has competed at all three editions since, posting a best finish of 25th in Turin eight years ago.
"A medal is my aim but seems just a little out of reach at this time," Keshavan told the Associated Press late in January. He is joined under the independent flag by two other Indians: alpine skiers Himanshu Thakur and Nadeem Iqbal.
Vanessa Mae
Country: Thailand Sport: Alpine skiing
They said: "When it comes to music, I am a perfectionist. When it is skiing, I have no delusions about a podium - or even being in the top 100 in the world."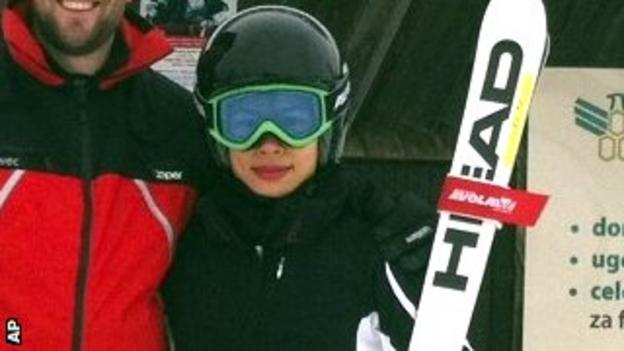 You will be forgiven a double-take when a 5ft 3in world-renowned concert violinist glides across your screen in the women's giant slalom at Sochi 2014.
If you have been following along, though, you will know this has long been a dream turned ambition for Vanessa Mae.
The 35-year-old Singapore-born British citizen announced her quest to reach Sochi almost four years ago. She has since been competing under her father's surname as Vanessa Vanakorn. For most of that time, her bid looked doomed.
She made her breakthrough in a series of races quietly staged in Slovenia on the last possible weekend before the qualification deadline, just barely hitting the criteria required to ski for her father's homeland at the Games.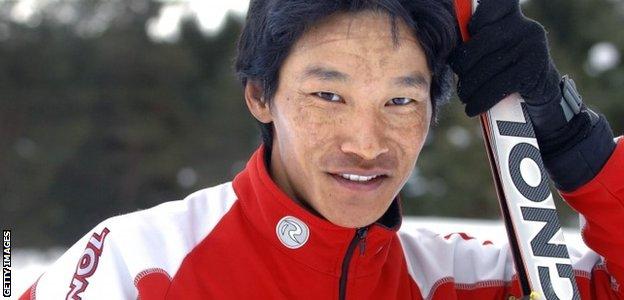 Dachhiri Sherpa
Country: Nepal Sport: Cross-country skiing
They said: "There is a very big chance I will finish last."
Dachhiri Sherpa is 44 years old and, ever since finishing 94th at the Turin 2006 Games, has valued taking part in the Olympics over winning.
"The placing is not important if I can teach young people in Nepal about the Olympic spirit. This spirit is in my heart," Sherpa told the AFP news agency last week.
Born beneath Mount Everest, Sherpa was brought up in a monastery and only came to skiing at the age of 33, on the urging of Dutch tourists he had met.
He moved to Switzerland and made his competitive debut in the 2003 Asian Winter Games, in Japan. More than a decade later and, having improved to 92nd at Vancouver 2010, Sherpa says: "This will be my last Olympics. I need to find the next young talent."
Note: Sherpa has yet to finish last at the Games, despite his pessimism. Ninety-six skiers finished his 15km race in Turin plus two who did not finish and a disqualification; there were 95 racers in the same event four years later, plus one athlete who did not start.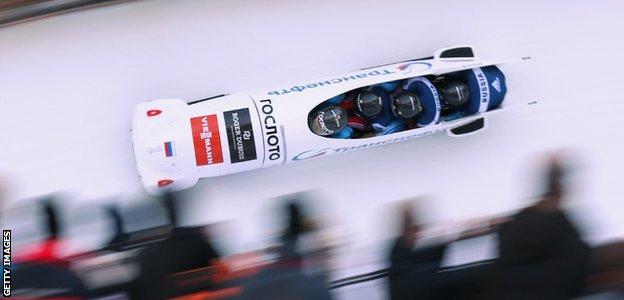 Alexey Voevoda
Country: Russia Sport: Bobsleigh
They said: "Arm wrestling is a very serious thing. Many more countries practise arm wrestling than bobsleigh."
Alexey Voevoda is a member of Alexander Zubkov's Russian bobsleigh team, ranked third in the world in both the two-man and four-man disciplines. Not much unlikely about that.
However, Voevoda has a colourful life beyond bobsleigh. The 33-year-old - welcoming the Games to his home town as a Sochi native - is also a former arm-wrestling world champion with quite a history in the sport, including an appearance in a 2008 arm-wrestling feature film.
Voevoda also practises judo and has been on a raw vegetarian diet for more than two years, according to the Moscow Times.
With two Olympic bobsleigh medals to his name - silver in Turin and bronze in Vancouver four years later - Voevoda is well positioned to win more in Sochi, but says he is preparing to return to arm wrestling following the Games.
Winston Watts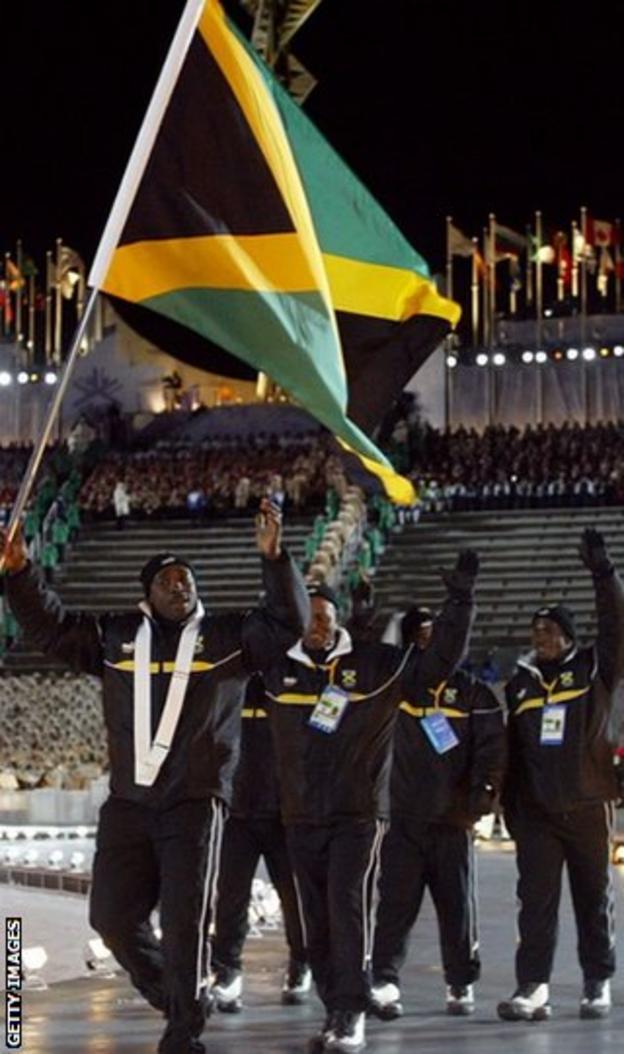 Country: Jamaica Sport: Bobsleigh
They said: "You'd never believe I was a man of 46. I'm big, dark and handsome, like a 6ft, 235lb runnin' back."
Yes, a Jamaican bobsleigh team at the Winter Olympics is a big deal. Yes, Cool Runnings was an enjoyable movie. But Jamaican bobsleigh pilot Winston Watts has more to his story.
Watts has already been to three Olympic Games: he rode a four-man sled for Jamaica in 1994 and 1998, then took a two-man to Salt Lake City with team-mate Lascelles Brown in 2002. Brown is an article in his own right: now 39, he will be Watts's rival on the Canadian team at Sochi 2014, having spent two years competing in bobsleigh for Monaco in the interim.
If much has changed for Brown since he and Watts teamed up in 2002, more has changed for Watts, including his name. In all his previous Olympic appearances, he was known as Winston Watt. "They made a mistake on my passport," he explained to the Daily Telegraph. "Winston Watt, Winston Watts. Whatever, it makes no difference, man. I'll still be fast."
Watts turns 47 on 8 February, eight days before the Sochi 2014 two-man bobsleigh heats begin. To date, his best finish at any Games is 14th in the four-man in Lillehammer 20 years ago.
Vic Wild
Country: Russia Sport: Snowboard
They said: "The USA wasn't into it, man."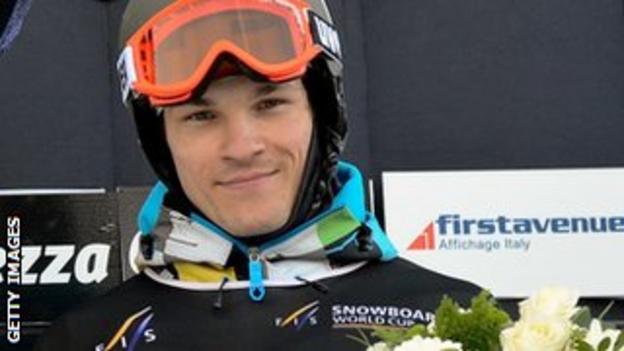 Russia has a medal contender in the Alpine snowboard events at Sochi 2014? No big deal. His name is Vic Wild and he used to be American? Less likely.
Wild is, in fact, the first Winter Olympian to be born in America but compete for Russia. Born in Washington state in 1986, he now lives in Moscow. What lies in between is partly a story of love, partly one of frustration.
In the run-up to Vancouver 2010, Wild was going nowhere and missed out on selection for the US. A year later he was dating a Russian snowboarder, Alena Zavarzina, and - citing a lack of support and coaching at home - planned a big move.
"We are very interested in this athlete," said the head of Russia's snowboard team, but the move could only come off if Wild had an Olympic or world medal to his name, which was not the case. Then, they found an alternative.
"We decided, you know what, let's go for it, let's get married," 27-year-old Wild told NBC. "We decided it's the only chance we've got."
They wed in 2011, Wild joined the Russian team and won world bronze in 2013, and here he is now - a home athlete at Sochi 2014.