Sochi 2014: Nick Buckland beats heart surgery to compete in Games
By Ollie Williams
BBC Olympic sports reporter in Sochi
Last updated on .From the section Winter Olympics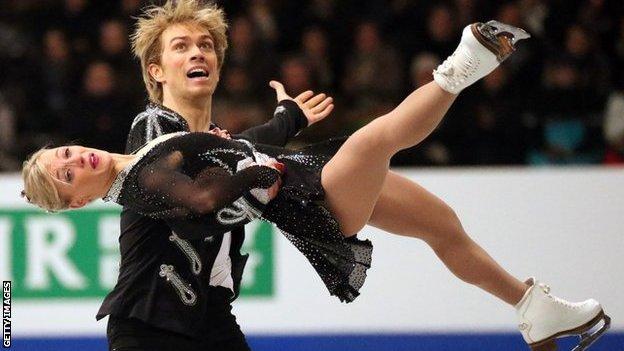 Sochi will be kinder than Vancouver on Nick Buckland's heart.
Four years ago, the British ice dancer felt a strange sensation in the opening practice of his Olympic debut. "Like my heart was beating out of my chest," he recalls.
He recovered and skated on - he and partner Penny Coomes finished 20th - but when he left Vancouver, the heart problem stayed. It had a name: tachycardia, an occasional and dramatic quickening of the heartbeat.
As the years passed, it got worse. Stress and pressure triggered the palpitations so, at major events, Buckland's heart leapt into overdrive: a hurtling, terrifying 270 beats per minute or more.
"You can't do anything, you're all numb," explains Evgeni Platov, Buckland's coach. "It was a serious problem."
Doctors were and that really is a serious problem for an athlete - heart surgery just months before the Olympic Games.
"That's the Olympics gone," Buckland remembers thinking. "I was awake during the procedure. I remember them testing it all out, doing different things and looking at screens. It was a really weird experience but I knew exactly what was happening.
"They had to go in and cauterise the nerve causing the problems - that was the especially scary bit. I couldn't feel them doing anything, but the surgeon told me when he was going to go in and do it. He told me to take shallow breaths and no sudden movements. That was weird."
While a worried Coomes received text updates, surgeons patched up the Nottingham 24-year-old and sent him on his way. Buckland could not believe that he felt fine.
"Nick called me after his surgery," says Platov. "This was after a couple of days. He said he was feeling much better already, but I told him to take it easy. He said, 'I'm ready, I'm coming.'
"We were all really worried so we started super-easy. Then we started pushing a bit. He was absolutely fine.
"At the last world championships, after three minutes of their routine, this thing [tachycardia] happened and his heart was at 270 beats per minute. Now it's all fixed. I'm just looking forward to the Olympics."
If Platov is keen to see what the pair can do without the threat of heart trouble looming, imagine how Buckland and Coomes feel.
The two have already demonstrated the difference a healthy heart makes, - their best-ever result - in January.
"It's such a huge confidence boost," says Buckland after their first session on the Olympic training rink in Sochi. "I can go into competitions knowing something like the heart palpitations won't happen."
"This is the best feeling in the world," agrees Coomes.
"Getting bronze came earlier in our career than I'd anticipated," she adds. "It was great. Now I'm like, 'Right, move on, where's my next one coming? I hope it's soon. I've got this hunger again, I want to get going."
Buckland concurs. "That bronze medal is such a confidence boost to us," he says. "It shows we can be up there with the best in the world. We've got to give two great performances and the results will take care of themselves."
Platov knows about results. He and Oksana Grishuk twice won the Olympic ice-dance title for Russia in the 1990s, defeating Britain's Jayne Torvill and Christopher Dean en-route at Lillehammer 1994.
"We beat your guys - my idols, the legends Torvill and Dean," he says, proudly. "Even in 1994, they were still my idols. They were the best, I love them."
Now, Platov hopes to mould the rejuvenated Buckland and partner Coomes into Britain's next Olympic medal threat. Since 2010, the two have trained with Platov in the US state of New Jersey. "Eight hours a day, every day. One day off," he says.
Moving to the US has been a costly enterprise. When they sit down to work it out, Coomes and Buckland say the price of coaching is up to 10 times as expensive in the States as in the UK.
There are spin coaches to be paid, people to work on their clothing, ballet lessons, music, choreography - including an advisor who works with Taylor Swift - not forgetting basic expenses like accommodation.
But the athletes and their coach feel results like European bronze are proving the product is worth the sacrifice, even if 2014's routines are not yet the finished article.
"If we get top 10, it's pretty good," says Platov. "Top eight would be excellent; that's going to be 110% and that's going to be difficult.
"We shouldn't forget two leading couples were missing at the Europeans and they will all be there in Sochi. We'll see what happens. If they skate clean, we should get top-10."
What about 2018? "Medals," Platov booms, interrupting. "I can't say what kind of medals, but definitely some medals.
"We will train 10 hours a day, not eight," he adds, smiling. "No, seriously, they're working very hard and I don't have to push them - they are asking for more.
"It's skating skills, 'deep edges' and everything. It's polishing. For us, the long-term goal is absolutely medals in 2018."
Coomes and Buckland begin their Sochi campaign in the team event on Saturday 8 February, while their ice dance event takes place on 16 and 17 February.