Sochi 2014: An Olympic love story watched by millions
By Ollie Williams
BBC Olympic sports reporter in Sochi
Last updated on .From the section Winter Olympics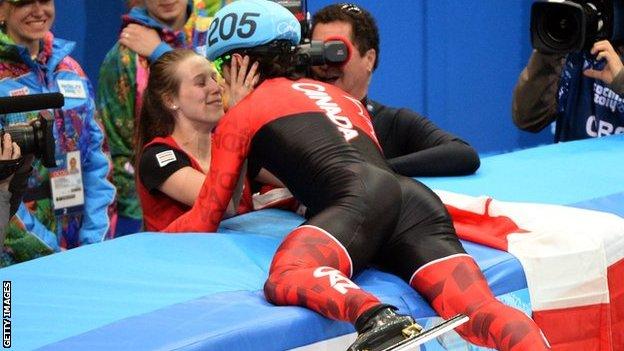 Their eyes met across a crowded ice rink.
"There were 20,000 people in the stands," remembers short track skater Charles Hamelin.
"And after my race, my eyes crossed hers by magic."
Racing at his home Olympics for Canada at Vancouver 2010, Hamelin won the men's 500m title in astonishing fashion, keeping his footing as rivals fell on the final corner.
Up in the stands, TV cameras had uncovered Hamelin's girlfriend, fellow Canadian skater Marianne St-Gelais. She bounces up and down 74 times in the closing stages of Hamelin's race, arms in the air, feet stamping, wildly screaming at the ice.
As Hamelin crosses the line, St-Gelais freezes for a second, almost-but-not-quite certain her boyfriend has won. We cannot see the scoreboard, but the moment the result comes up is obvious: she explodes once more.
When their eyes meet, St-Gelais can take it no longer. She makes for the ice.
"She came down," Hamelin told BBC Sport, "and I was like: 'Can she do that?' Then someone helped her. So I guess, yes."
St-Gelais hops over a barrier, up onto the blue, padded crash pads lining the rink and embraces Hamelin while the world's broadcasters circle them. The moment is electrifying.
"At that time, honestly, I thought it was only the both of us," said St-Gelais. "I was so proud of him.
"We kissed and after that, I was so shy. 'Oh gosh, we had a moment there.' After the Games, people were talking more about the kiss than my performance."
Hamelin called it "the greatest moment of my life" but now it has competition, because the same events happened again earlier this week.
Hamelin won men's 1500m gold in Sochi, his third career Olympic title, and St-Gelais - herself an Olympic silver medallist - was once more primed by the crash pads, waiting for her kiss.
Four years later, Hamelin and St-Gelais are still together, still captivating Canada and the world. He is now 29, she will be 24 in three days' time.
The Quebecois couple, now icons of two Olympic Games for Canadian fans, have an obvious spark between them when they talk, even though English is not their first language.
When St-Gelais inadvertently referred to Hamelin's "boyfriend" instead of his brother, chaos broke loose and minutes passed before they stopped laughing.
Later, Hamelin explained the awkward start to their relationship. They met on the short track team but St-Gelais was 17 at the time. "Marianne was super-young," he admitted, only for her to breezily interject: "But she's super-funny, huh?"
For the past seven years, they have shared a team, a life together and a cultural responsibility as flagbearers for the Canadian province of Quebec, which has a proud heritage in speed skating.
"I was inspired by Marc Gagnon, Eric Bedard, all those guys and girls who were winning medals at the Olympics," said Hamelin, reeling off names barely known outside Canada but heroes to a young Hamelin in French Canada.
"Why we're still good - Quebecers, I mean - is because the Olympic champions give it back," added St-Gelais. "They give back what they learn, what they were good at.
"Every champion is so proud of what they accomplished. They want the future athletes to be like them and they believe in us. Charles is starting the same with the young skaters, so am I.
"We know what we need to have to be a champion, and we want to help them, and keep the sport healthy."
Hamelin is already taking one more gold medal home to show the next generation. In the week to come, he and St-Gelais have at least five more chances for medals - and rinkside romance.
"That was a one-shot deal, guys. We won't do it again," St-Gelais had insisted before Sochi, laughing. Those plans have changed. Save a space on the crash pads.