Sochi 2014: Shaun White critical of slopestyle snowboard course
By Nick Hope
BBC Olympic sports reporter in Sochi
Last updated on .From the section Winter Olympics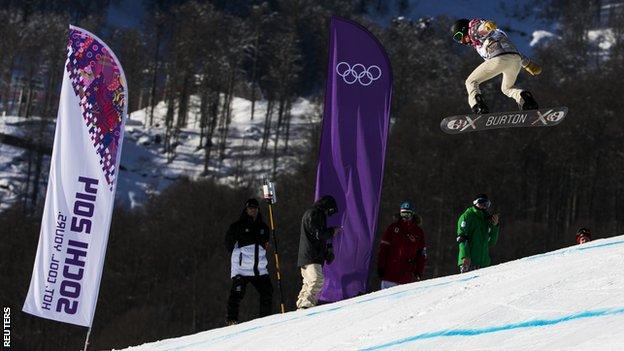 Snowboard legend Shaun White says the Sochi slopestyle course is a little intimidating and needs further changes.
His comments come after Norwegian medal prospect Torstein Horgmo, 26, was ruled out of the Olympics after breaking his collarbone on the course on Monday.
Sochi officials reduced the height of all three jumps, but some snowboarders believe they did not go far enough.
Asked if it was dangerous, multiple Olympic champion White responded: "I'd have to say there is some truth to it."
White, 27, who won halfpipe gold medals in 2006 and 2010, described the course as both "interesting" and "a little intimidating".
He added: "There is a bit of danger any time you step out. This one may have a bit more than the others. It has been a challenge. The consensus so far from everyone is that there are changes that need to be made."
Course officials reduced the combined height of the three jumps by around six feet (1.82m) ahead of Tuesday's penultimate training session, but the Czech Republic's Sarka Pancochova believes they are still a problem for female competitors.
"For women, the big jumps are a little too big," she said. "It's a little bit dangerous still. You think they should have figured it out by now and they should have a course that is perfect."
However, not all snowboarders are in agreement.
Canadian Karly Piper-Shorr said on Tuesday that the jumps were "awesome", while team-mates Mark McMorris and Max Parrot, who will be serious rivals to White's bid for Olympic glory later this week, both said they were happy with the changes.
"It's not too dangerous at all," said McMorris.
Parrot, who won X-Games gold last month, added: "The jumps were not perfect yesterday, but I still had fun.
"Today it was perfect. There is nothing to complain about. I don't think it can get much better."
Team GB snowboarding head coach Hamish McKnight told BBC Sport that the course at the Rosa Khutor Extreme Park "rode much better" for his team on Tuesday.
"Because it was cold last night, they got the machines out and were able to smooth out the course," he said. "This made a big difference.
"They also made some changes following yesterday's feedback and may make a few more tweaks."
Officials from the X Games - the traditional pinnacle event for slopestyle - insist that none of their current designers have been involved in the creation of the Sochi course.
Snowboard slopestyle qualification rounds begin on Thursday - a day before the opening ceremony - with finals due to take place on Saturday.