Sochi 2014: Elise Christie not guaranteeing speed skating medal
By Anna Thompson
BBC Sport in Sochi
Last updated on .From the section Winter Olympics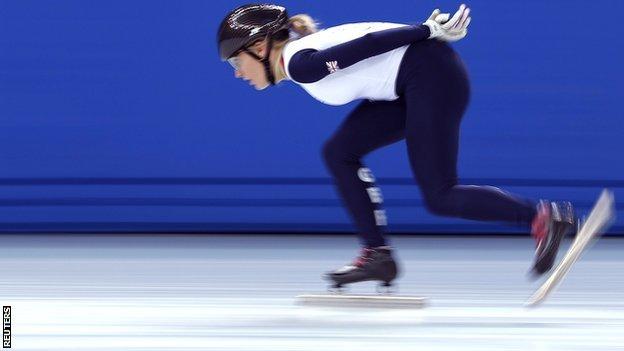 Great British short track speed skater Elise Christie says she cannot guarantee a medal at the Winter Olympics and her career should not be judged solely on these Games.
But she warned: "I can't base my dreams on an Olympic medal because so many things can go wrong on the day."
Christie had a fantastic 2012-13 season, crowned overall World Cup 1000m champion after eight podium placings.
She also became the first British woman to win a World Championship medal.
This season she has struggled for top-three finishes as she has experimented with race tactics.
Her form is returning, however, and at the last event before the Games, she retained her European title in the 1000m.
At the Winter Olympics, Christie, from Livingston in Scotland, will race in the 500m, 1000m and 1500m.
She said: "This has been a tough year but thankfully I have come out the other end. I have persevered and at the Europeans I got a good result."
Britain has only ever won one Olympic medal in short track, when Nicky Gooch took bronze in the 500m in 1994 in Lillehammer.
But former world champion Wilf O'Reilly believes Christie could win as many as three medals.
"I think she'll get a medal. She has the capability of medalling at every distance," O'Reilly said.
However he is concerned about the changes made to her race tactics.
"Her coaches have changed her tactics this season," said O'Reilly, who won the World Championship in Sydney 23 years ago.
"Before she led everything from the front. This season she's been going into races approaching it from the back.
"I think they were a little bit concerned that her competitors would find her very predictable.
"Whether or not they should have done that in an Olympic season - the answer will only really come after the Winter Olympics have finished."
The sport is notoriously unpredictable with psychology, tactics and luck all playing a part.
Christie, whose competition starts on Monday, said she would decide once she was on the ice which race plan she was aiming to execute.
UK Sport has funded short track to the tune of £3m in the four-year cycle to Sochi and it expects a medal in return for its investment.
Gooch, who is now a British team coach, said they were not setting any targets as there were "so many uncontrollables" in the sport but he added "If we get it right on the day, we are a medal-winning team."