Sochi 2014: Shaun White withdraws from slopestyle event
Last updated on .From the section Winter Olympics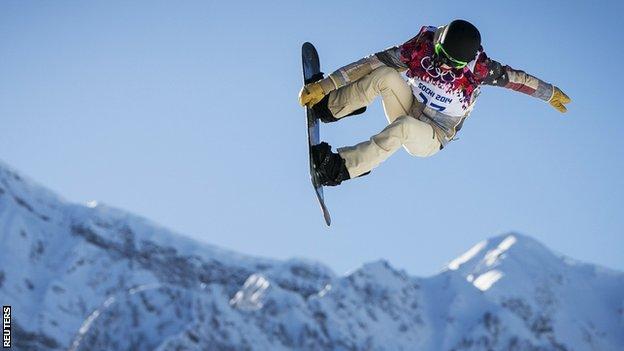 Snowboarder Shaun White has pulled out of the Sochi Winter Olympics slopestyle competition because of safety concerns.
The American will instead focus solely on winning a third consecutive gold medal in the halfpipe event.
White, 27, said the course was "a little intimidating" and needed further changes after Norwegian Torstein Horgmo broke his collarbone on Monday.
He told USA Today: "The potential risk of injury is a bit too much for me to gamble my other Olympic goals on."
White, halfpipe champion in 2006 and 2010, hurt his left wrist during slopestyle practice on Tuesday.
In a statement issued by US Snowboarding, White added: "The difficult decision to forego slopestyle is not one I take lightly as I know how much effort everyone has put into holding the slopestyle event for the first time in Olympic history, a history I had planned on being part of."
Course officials reduced the combined height of the three jumps by about six feet (1.82m) ahead of Tuesday's penultimate training session following Horgmo's incident which ruled him out of the Games.
Snowboard slopestyle qualification begins on Thursday ahead of Friday's opening ceremony.
Competitors raised concerns about the proximity of the rails at the beginning of the course and called for the lowering of three jumps.
International Ski and Snowboard Federation (FIS) technical delegate Bill van Gilder told BBC Sport that it was common to have "concerns" after the first day of training and believes that "everyone is 'stoked' with the course".