Sochi 2014: Jamaica bobsleigh team lose luggage & miss training
By Nick Hope
BBC Olympic sports reporter in Sochi
Last updated on .From the section Winter Olympics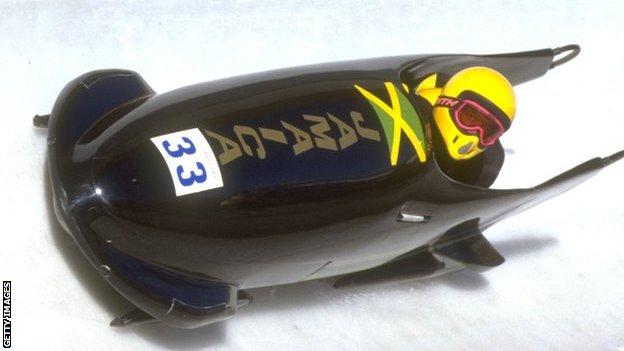 The Jamaican bobsleigh team missed their first training session on the Sochi Olympic track after their luggage was lost en-route to Russia.
"It's really frustrating," said Watts, who has competed at three Games.
Last month a funding plea saw the public donate more than £60,000 to help the team travel to Sochi.
"We have just got all the funding together and have arrived at the Olympics - but then this happens," added Watts.
The Jamaican team became famous after their 1988 appearance at the Winter Olympics was later turned into the film Cool Runnings.
Watts competed at the 1994, 1998 and 2002 Games - the last time Jamaica took part in bobsleigh at the Winter Olympics - and came out of retirement two years ago.
"The sled is here, but our blades that go on the sled aren't and neither is the clothing that we wear when we slide," he said.
The Jamaican team flew from their training base in Lake Placid, US, on Monday with Delta Airlines and were due to take a connecting flight from John F Kennedy [JFK] airport to Moscow.
However, bad weather prevented the plane from landing.
"We were circling for an hour or hour-and-a-half and were then re-routed to Philadelphia to refuel before going back to JFK again," said Watts.
"Our original flight had already left so we had to take another."
They finally arrived in Sochi on Tuesday afternoon local time and remain hopeful they can take part in training on Thursday.
"This is a very new track for everyone and I'm not really happy about missing today," added Watts.
"We will have maybe three more sessions - six runs in total and I'm confident we will take part in those because we have a lot of friends here and I'm sure people will lend us what we need."
British bobsleigh pilot Lamin Deen, who will compete in the two and four-man competitions in Sochi, is friends with Watts and admits the course takes time to feel comfortable navigating.
"It's a safe track, but it's very difficult to be quick, so missing out on these two runs will not be an advantage," Deen told BBC Sport.
The Winter Olympic opening ceremony takes place on Friday, with the two-man competition beginning on Sunday 16 February.