Sochi 2014: Darya Domracheva wins second biathlon gold medal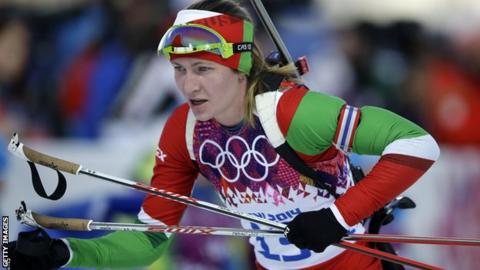 Darya Domracheva of Belarus clinched her second gold medal of the Sochi Winter Olympics with victory in the women's 15km biathlon competition.
Domracheva, 27, who also won the 10km pursuit title on Tuesday, only missed one out of 20 shots as she recorded a time of 43 minutes 19.60 seconds.
Selina Gasparin of Switzerland took the silver medal and Nadezhda Skardino, also of Belarus, came in third place.
Great Britain's Amanda Lightfoot, 27, finished in 71st position.
The competition featured a 15km race, along with four shooting sections, each consisting of five shots, with a minute added to the biathlete's time for every target missed.
Lightfoot, who had come 75th in the 7.5km sprint on Sunday, was only the second British woman to compete in the 15km event and missed five out 20 shots.