Sochi 2014: Olympic opening ceremony under way
By Ollie Williams
BBC Olympic sports reporter in Sochi
Last updated on .From the section Winter Olympics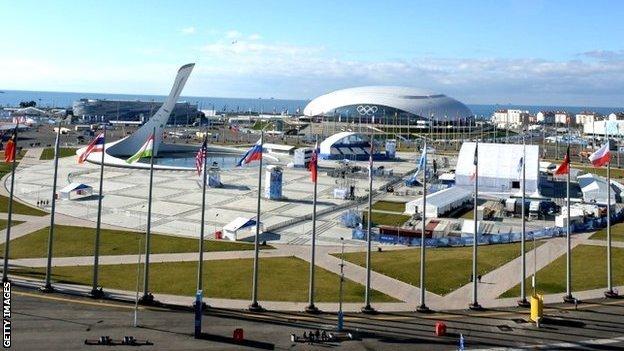 The ceremony to open the costliest Olympic Games in history has begun in Sochi, with 98 medals to be won over the next 16 days.
The resort, on Russia's Black Sea coast, will welcome about 2,900 athletes in 15 disciplines.
The build-up has been overshadowed by security fears, human rights concerns and delays to preparations.
But, at £30bn, the cost of these Games is more than the combined total of all other Olympic Winter Games to date.
Canada, Norway and the United States are considered the likeliest candidates to top the Sochi medal table, while Team GB have been set a target of at least three medals in Sochi.
If Britain reach their target, it would mark the team's best performance in terms of medals won since 1936, while hope is high that Britain could win more than one gold medal at a Winter Olympics for the first time.
The British women's curling team and skeleton slider Shelley Rudman are both defending world champions, while team-mate Lizzy Yarnold leads the current skeleton rankings.
"I'm a canny Scot so I will err on the side of caution but we have a number of athletes competing at a top-class level in winter sports," said British chef de mission Mike Hay.
"Without putting any additional pressure on, across more disciplines and more sports than ever before, we're a strong team. We are confident we will do well and there is a great spirit in the camp."
Hosting an Olympics for the first time since the boycotted Moscow Games of 1980, Russian athletes are under pressure to improve on the embarrassment of 11th place at the last Winter Games in Vancouver.
The nation has devoted £600m to elite winter sport since winning the bid to host these Games seven years ago.
Russian attention will be focused on the men's ice hockey team, who have yet to win Olympic gold since the break-up of the Soviet Union (although a Unified Team featuring Russian players won gold in 1992), and popular figure skater Evgeni Plushenko, who has overcome injury to feature in the Games but faces a tough task to win a medal.
Norway will look to biathlon and cross-country skiing for the bulk of their medals, while Canada's medals will come from short track speed skating, in particular Charles Hamelin, who has the potential to be one of the faces of the Games, as well as freestyle skiing and snowboard.
The United States will expect big things from Alpine skiing and bobsleigh.
In the absence of injured skier Lindsey Vonn, the leading American lights are slalom specialist Mikaela Shiffrin and snowboarder Shaun White - despite his withdrawal from the slopestyle contest on Wednesday, citing concerns over the safety of the course.
Security in Sochi has been prominent as the world's athletes and media arrive for the Games. Threats in recent months have included repeated calls to disrupt the Olympics from the Imarat Kavkaz group in the North Caucasus, suicide bombings in the nearby city of Volgograd, and a recent US warning about the potential for 'toothpaste' bombs on flights.
Journalists arriving in the region have found hotel rooms and other facilities unfinished amid a last-minute rush by organisers to complete building work, although the Olympic venues themselves have largely met with praise from athletes.
Russian opposition politicians and analysts have attributed Olympic project delays to corruption, which they say accounts for much of the Sochi Games' substantial cost - more than three times the London 2012 budget.
Liliya Shevtsova, a senior associate at a Moscow public policy research centre, believes the Games are "an embodiment of corruption, inefficiency, irrationality, extreme vanity and megalomania".
Sochi's organisers do not recognise the £30bn figure (they claim it includes the costs of infrastructure which may have been built anyway) and insist their outlay has been closer to £4.3bn.
Alexander Zhukov, president of Russia's Olympic Committee, said the authorities had "uncovered no cases of corruption".
On Thursday, United Nations secretary-general Ban Ki-Moon addressed another issue facing the Games: recent Russian legislation outlawing "gay propaganda" towards children, widely perceived as reinforcing the oppression of Russia's lesbian, gay, bisexual and transgender communities.
"Many professional athletes, gay and straight, are speaking out against prejudice," said Ban, addressing an International Olympic Committee (IOC) assembly in Sochi.
"We must all raise our voices against attacks on lesbian, gay, bisexual, transgender or intersex people. We must oppose the arrests, imprisonments and discriminatory restrictions they face."
IOC president Thomas Bach has said athletes who oppose Russia's 'anti-gay' legislation are free to express their views in interviews with the media, but must not do so on the podium or during their events.
"If an athlete feels strongly about speaking out we would not impede them doing that," added Lord Coe, chairman of the British Olympic Association.
Bach added that he expects Russian president Vladimir Putin to adhere to the Olympic charter and not use the opening ceremony as a platform for political purposes.
"The Olympic Charter is very clear. The president of the country can exactly say one sentence," said Bach.
"And he [Putin] will say this one sentence as did all the other heads of state before, with the exception of one, who violated the Olympic Charter in Salt Lake City in 2002."
Speed skater Jon Eley will be Team GB's flagbearer on Friday as a ceremony set to involve almost 10,000 participants opens the Games.
Sochi's Fisht Olympic Stadium should be at full 40,000 capacity for the opening ceremony, although empty seats are anticipated at venues once the action begins.
Two weeks before the Games, organisers reported they had sold 70% of available tickets. Vancouver 2010, by contrast, sold 97% of its tickets with London 2012 achieving a similar figure.
For the first time in 30 years, events at the Winter Olympics began before the opening ceremony. Britain's Jamie Nicholls reached the final of the men's snowboard slopestyle, an event making its Olympic debut, on Thursday.
Billy Morgan, Jenny Jones and Aimee Fuller missed direct qualification for the slopestyle finals but go through to the semi-finals, while GB figure skaters Matthew Parr, Stacey Kemp and David King competed in the team figure skating event - also new for these Games.
Women's ski jump, luge team relay and biathlon mixed relay are among other events appearing on the Olympic programme for the first time.
The first medals of the Games will be decided on Saturday with five golds up for grabs in biathlon, cross country skiing, freestyle skiing, snowboarding and speedskating.