Sochi 2014: Ole Einar Bjoerndalen makes Winter Olympic history
Last updated on .From the section Winter Olympics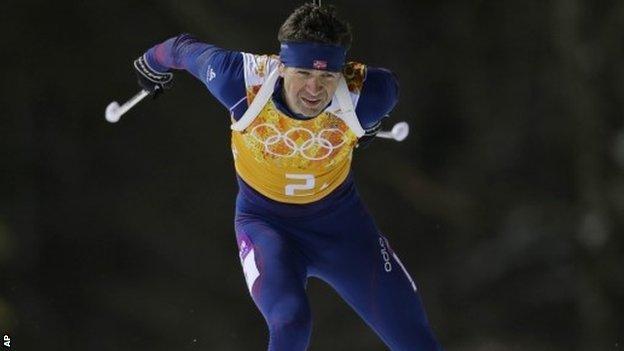 Ole Einar Bjoerndalen became the most decorated Winter Olympian in history with 13 medals by helping Norway win gold in the mixed biathlon relay.
It was the 40-year-old's second gold medal in Sochi and his eighth in his sixth Games.
Bjoerndalen handed a 43-second lead to Emil Hegle Svendsen, who crossed the line 32 seconds ahead of Czech Republic, with Italy taking bronze.
He had jointly held the medals record with compatriot Bjorn Daehlie.
Cross-country skier Daehlie won eight gold and four silver medals between 1992 and 1998.
Bjoerndalen, who also claimed the 10km sprint gold in Sochi, started his haul at the Nagano Games in 1998, and has won at least two medals at every Olympics since then.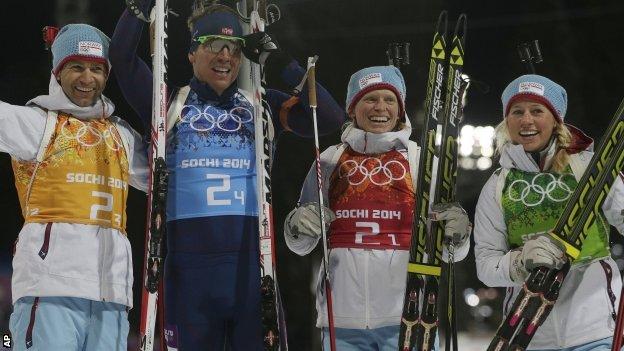 Most medals won by Winter Olympians
Men
13 medals: Ole Einar Bjoerndalen, Norway, biathlon, 1994-2014 (eight gold, four silver, one bronze)
12: Bjorn Daehlie, Norway, cross-country, 1992-98 (eight gold, four silver)
9: Sixten Jernberg, Sweden, cross-country, 1956-1964 (four gold, three silver, two bronze)
8: Ricco Gross, Germany, biathlon, 1992-2006 (four gold, three silver, one bronze)
8: Apolo Ohno, United States, short track speedskating, 2002-10 (two gold, two silver, four bronze)
Women
10: Raisa Smetanina, Soviet Union-Unified Team, cross-country, 1976-92 (four gold, five silver, one bronze)
10: Stefania Belmondo, Italy, cross-country, 1992-2002 (two gold, three silver, five bronze)
9: Lyubov Egorova, Unified Team-Russia, cross-country, 1992-94 (six gold, three silver)
9: Claudia Pechstein, Germany, speedskating, 1992-2006 (five gold, two silver, two bronze)
9: Marit Bjoergen, Norway, cross-country, 2002-14 (five gold, three silver, one bronze)