Sochi 2014: Victor An wins record sixth short track skating gold medal
Last updated on .From the section Winter Olympics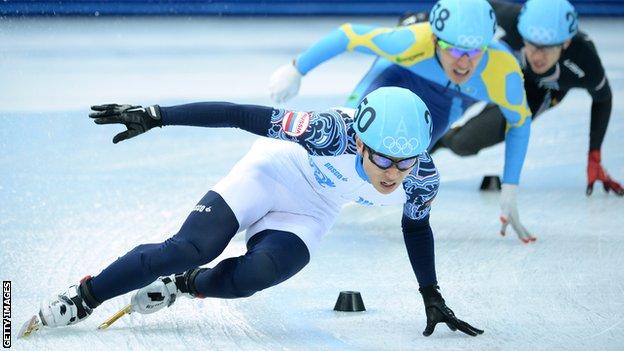 Russia's Victor An won his sixth career gold medal and became the most successful short track skater ever as the hosts won the 5,000m relay.
An, 28, won three gold medals for South Korea in Turin in 2006 before being given Russian citizenship in 2011.
He won Russia's first ever short track speed skating gold medal in the 1,000m before winning the 500m and the relay.
Only Norway's Ole Einar Bjoerndalen and Bjorn Daehlie have won more gold medals at a Winter Olympics, with eight.
Having won a bronze in the 500m in 2006 and the 1,500m in Sochi, An's eight medals move him level with American Apolo Anton Ohno with the most medals in short track history.
He beat China's Wu Dajing into second with a time of 41.312 seconds in the 500m.
After helping beat the United States with a record time of six minutes 42.1 secs in the relay win, An said: "I'm very happy we were able to win a medal as a team. I wanted one thing, which was for all of us to be smiling together.
"This has been the best experience of my sporting career and I will never forget Sochi. Before the competition started, I just wanted to concentrate on doing my best and show what I could be on the Olympic stage."
An is also the first person to win gold in all four short track events in Winter Olympics history.