Sochi 2014: Norway's Marit Bjoergen wins fifth Olympic gold
Last updated on .From the section Winter Olympics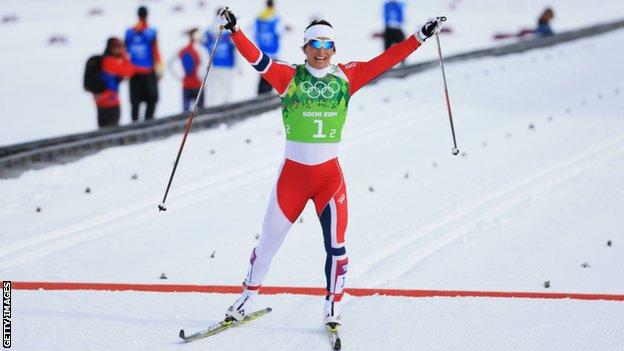 Marit Bjoergen landed the fifth Olympic gold medal of her career after victory for Norway in the women's team sprint.
Bjoergen and partner Ingvild Flugstad Oestberg came home ahead of Finland and Sweden in 16 minutes 5 seconds.
After upsets in the men's and women's cross-country relays this was Norway's first team gold of Sochi 2014.
Bjoergen won the 15km skiathlon at Sochi to go with her three golds from Vancouver 2010.
Aino-Kaisa Saarinen and Kerttu Niskanen earned Finland's silver medal while Ida Ingemarsdotter and Stina Nilsson took bronze for Sweden.