Sochi 2014: Finland win men's cross-country team sprint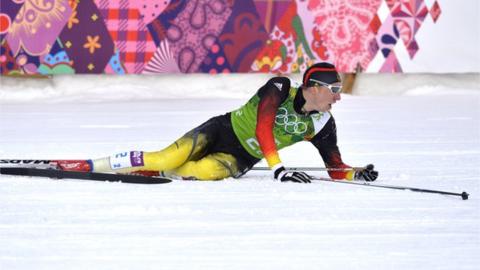 Finland pair Iivo Niskanen and Sami Jauhojaervi won gold in the men's cross-country team sprint, pipping home nation Russia.
Germany were leading but Tim Tscharnke fell on the final sprint after a clash with Jauhojaervi, who crossed the line just under a second before Russia.
Sweden's pair took bronze with Germany eventually finishing seventh.
Norway, Switzerland and the United States were fourth, fifth and sixth respectively.
Meanwhile, British cross-country skier Andrew Young was forced to withdraw midway through the event after a pre-existing heart condition flared up.
Young suffers from tachycardia, a condition which causes sporadic episodes of racing heartbeat and palpitations.
"It happens two races a year. Every now and then it happens and you have to stop," said the skier, who was competing with team-mate Andrew Musgrave.
"I don't really like using it as an excuse. It's not an excuse, it happens. It was just at the start of my second leg and when it happens the advice is just to stop."