Sochi 2014: Evgeni Plushenko begins Russian bid for team gold
By Ollie Williams
BBC Olympic sports reporter in Sochi
Last updated on .From the section Winter Olympics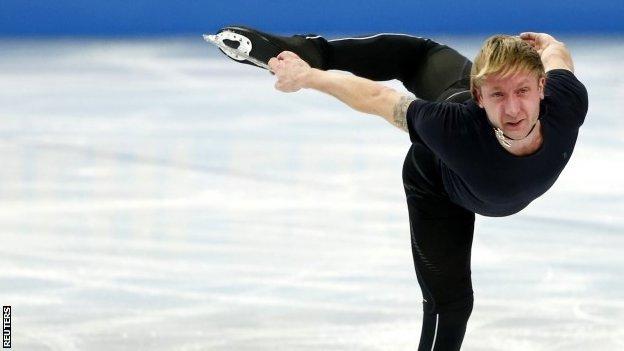 Russian superstar Evgeni Plushenko enthralled his home crowd inside Sochi's Iceberg arena as the hosts went ahead in Olympic team figure skating.
"It is so difficult skating an Olympics at home," said Plushenko. "People are waiting for something incredible."
Britain lie 10th after Stacey Kemp and David King had a fall.
Newcastle's Matthew Parr finished ninth of 10 skaters in the men's event on his Olympic debut,.
Britain had been the last nation to qualify a place in the 10-team event and were not expected to challenge for medals.
The team figure skating event is making its debut at Sochi 2014, in addition to the usual individual figure skating contests in men's, women's, ice dance and pairs.
Positions count for points in the team event - first place in any of the four disciplines is worth 10 points, second earns nine points and so on, down to one point for 10th.
The cumulative points total after all nations have skated eight times - one short programme and one free skate, across the four disciplines - decides the final standings. The five bottom teams are dropped at the halfway mark.
Hanyu, 19, overcame the ecstatic reception given to home favourite Plushenko to hand Japan a temporary advantage.
"Plushenko, to me, is a hero and it felt great just to take to the same ice as him," said Hanyu of his 31-year-old rival, with two days of competition remaining.
Plushenko, who also win silver medals in 2002 and 2010, came through back surgery and knee trouble to reach the 2014 Games. His was a controversial selection, but he repaid Russian faith with a confident performance.
"Whatever the result for me, I've already won, if only for myself," he said.
Britain's Parr, 23, has a place in the team event but not the individual event. If Team GB fail to reach the top five after the short programmes, Thursday will have been his only outing in Sochi.
"It was good fun out there, the crowd were cheering for everything," said Parr, who scored 57.40.
"Knowing Plushenko was in the same group and obviously with us being in Russia, I thought it might overpower me a little bit. But I dealt with it better than I thought I would.
"I've been doing this for over 16 years and to finally call myself an Olympian is a very proud moment. I'll always wear the British flag with pride."
In Thursday's other segment of the team event, the pairs short programme, Russia's Tatiana Volosozhar and Maxim Trankov harnessed Plushenko's momentum.
The world champion duo received, if anything, a warmer reception than Plushenko as they scored 83.79 to a standing ovation - narrowly below their season's best but far ahead of any rival on the night.
Kemp and King scored 44.70, well below the mark they had been hoping to reach at their second Olympic Games. The Lancashire pair finished 16th at Vancouver 2010.
"The scores were about 10 points behind what we were hoping for, so it was a shame," admitted King, 29.
"Not everything went our way. We've got to settle into the village more. We've only been in the village one day and we're competing."
If GB do not qualify for the second half of the team event, Kemp and King will next return in the pairs contest on Tuesday, 11 February.
The United States struggled on Thursday as Jeremy Abbott endured an outing in which barely anything went well to score 65.65. The US team lay seventh as the night ended.
Canada are second following Patrick Chan's 89.71 in the men's short programme, just behind Plushenko, and 73.10 for Meagen Duhamel and Eric Radford in the pairs. China are third with Japan fourth.