Sochi 2014: Craig Pickering withdraws because of back injury
By Nick Hope
BBC Olympic sports reporter
Last updated on .From the section Winter Olympics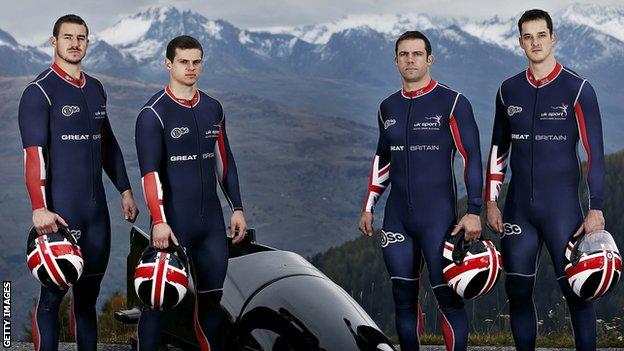 Former sprinter Craig Pickering has been forced to withdraw from the British bobsleigh Sochi Winter Olympics team with a slipped disc.
After competing in the 2008 Beijing Games 4x100m relay, he missed London 2012 with a different back problem.
He subsequently lost his athlete funding in October of that year before switching to bobsleigh a month later.
Pickering, 27, was due to compete in the two-man event on 16 February and the four-man event six days later.
The GB Bobsleigh coaching staff will decide who replaces Pickering within the next 24 hours.
"I am devastated," said Pickering. "We worked so hard to qualify the 'GBR 2' sled for the Games and I am gutted that I won't be on the start line with Lamin [Deen], John [Baines] and Ben [Simpson].
Pickering sustained the L3-4 acute disc prolapse injury during a training session on 2 February at the GB Bobsleigh's Olympic Preparation Camp in Konigssee, Germany.
He returned to the UK two days later for assessment at the English Institute of Sport and British Olympic Association [BOA] funded Intensive Rehabilitation Unit at Bisham Abbey in Berkshire.
The medical team determined that the nature and severity of the injury - which is in a different part of his back from where he had surgery ahead of the London Olympics - would not allow him to compete in Sochi.
His place at the Sochi Olympics was only confirmed at the last qualification event in Igls, Austria last month after pilot Lamin Deen delivered a career-best 11th place World Cup finish.
"Being at the [Beijing] Olympics was the pinnacle of my life and to be able to go to another one will be fantastic," he told BBC Sport at the time.
He would have been only the eighth British athlete to compete for Team GB at both a summer and winter Olympics.
"This is a big blow and I am personally devastated for Craig," said GB Bobsleigh performance director Gary Anderson.
"I spoke with him just after we heard from the doctors and he was clearly very upset - he had worked so hard to get to the point of selection for Sochi."
Pickering had made impressive progress in the sport and was part of the four-man bobsleigh team which finished fifth at the 2013 World Championships in St Moritz, Switzerland.
However, in the build-up to Sochi the British Bobsleigh coaching staff rotated the line-up for the team in order to find their strongest combination.
After the 'GBR 1' team of John Jackson, Bruce Tasker, Stuart Benson and Joel Fearon won historic World Cup and European Championship silver medals, Pickering found himself in 'GBR 2'.
"Since we scouted Craig into our programme he has been a model athlete," said Anderson.
"He brought with him a large amount of big competition experience and that has helped both 'GBR 1' and 'GBR 2' throughout the qualification process for these Games.
"We are fortunate that we have fantastic squad, which has strength and depth, so we know that whoever replaces Craig will put in a credible performance for Team GB."
The Sochi Winter Olympic opening ceremony will take place on Friday at 20:14 local time (16:14 GMT).