Sochi 2014: World watches Winter Olympics that are 'Putin's Games'

By David Bond
BBC sports editor
Last updated on .From the section Winter Olympics153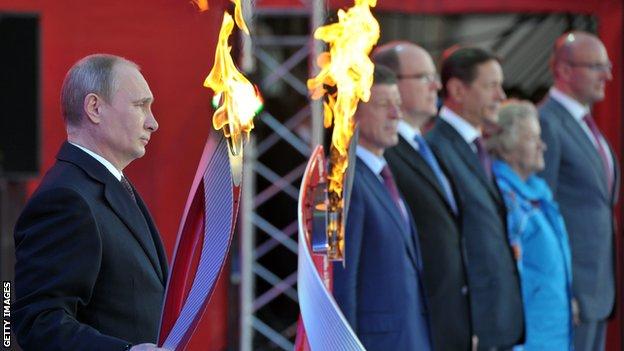 It is not lazy shorthand to call Sochi 2014 "Putin's Games".
The Russian president has been the driving force ever since the International Olympic Committee was persuaded that his vision for the Black Sea city could be made real.
Now - after so many years of concerns and questions - the big moment has arrived and Friday's opening ceremony will give us the first taste of what these Games will be like.
As we know from our own experience in London two years ago, the curtain raiser can set the tone for the rest of the event. In the run-up to the London Olympics there were a lot of jitters about security and tickets. There was a national sense of anxiety, which seemed to lift the moment Elgar's Nimrod began floating over the rolling green pastures of Danny Boyle's bizarre set.
While it might be hard to match the Queen jumping out of a helicopter, we are being promised the Sochi opening ceremony will be an 18-part spectacular, which will last almost three hours and showcase Russia's rich depth of arts and culture. There will be no shortage of history either, with creative directors promising a celebration of the country's 'millennium of might' and a section on the Russian revolution.
There will be innovations too - with athletes marching into the £500m Fisht Stadium from a ramp built into the centre stage. In another break from Olympic tradition they will also enter in the order of the Russian alphabet. The hosts will still come in last.
Make no mistake - there is a lot riding on this for Russia and for its president. No expense has been spared and while London used humour as well as pyrotechnics at its opening ceremony, Friday's show is likely to be more in line with Beijing's awesome declaration of global power in 2008.
In total, 66 heads of state and world leaders will be in attendance, including Chinese President Xi Jinping and Japanese Prime Minister Shinzo Abe. United Nations secretary-general Ban Ki-moon will also be there.
But the ceremony has been snubbed by US President Barack Obama, who is instead sending the former head of homeland security Janet Napolitano - seen by many as a statement against Russia's anti-'gay propaganda' laws.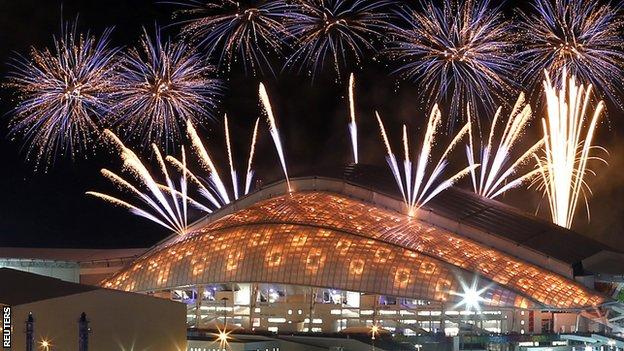 British Prime Minister David Cameron is also staying away but has sent Culture Secretary Maria Miller, who arrived early on Friday and spent part of the morning touring the BBC's broadcast centre in the Olympic Park.
Earlier this week the IOC president Thomas Bach criticised those leaders who had turned down the chance to come here, saying they were making an "ostentatious gesture" designed to attract international headlines.
But ultimately these Games won't be judged by the rest of the world on the quality of Friday's show or the number of world leaders who turn up. Organisers know there are many more hurdles to clear.
Questions of terrorism and security persist, while the first athlete to make any sort of political gesture - be it related to gay rights or any other cause - will be jumped on by an international media hungry for controversy.
My first impressions after three days here are that while Sochi is a bit rough around the edges, the organisation is on the whole deeply impressive. The venues are stunning and getting around has proved remarkably easy, despite the heavy presence of security guards and soldiers everywhere you look.
Yesterday's opening events up in the mountains seemed to go well enough (and looked stunning on TV) although there are still plenty of concerns about empty seats. The opening ceremony will no doubt be a sell-out of 40,000 but it will be interesting to see how the organisers cope if fans stay away in the coming days and questions start to be asked about a lack of atmosphere.
It was a problem for Moscow last summer during the athletics World Championships and is likely to be a problem here - but with so much at stake, one suspects the organisers will ensure any empty venues are quickly filled with volunteers.
The other big challenge for the Russians is to deliver a winning team. In Vancouver in 2010 they won just three gold medals and Putin has already piled the pressure on by saying the country expects them to deliver.
It is 34 years since Russia - in those days of course the Soviet Union - hosted the Olympic Games in Moscow without the Americans, who boycotted because of the host country's invasion of Afghanistan.
More than three decades on, so much has changed. With the eyes of the world turned to Sochi the challenge for the most expensive Olympics in history is to show people Russia has changed for the better.