Sochi 2014: Takanashi leads proud women into Olympic ski jump debut
By Ollie Williams
BBC Olympic sports reporter in Sochi
Last updated on .From the section Winter Olympics
Sara Takanashi walks into the room, stands in silence and waits for permission to sit.
With a half-hour interview ahead of her at the end of a day's training, the Japanese 17-year-old - widely tipped to become the first-ever Olympic women's ski jump champion on Tuesday - is the picture of politeness.
At just 4ft 11in and quiet as a mouse, Takanashi's dominance of a sport like ski jump seems improbable.
She certainly does not find her frame ideally suited to her passion.
"I want to be able to jump more efficiently," she says, through an interpreter. "This is the body I was born with and I wouldn't wish to change that. But I am training hard to suit the needs of the event - trying to strengthen my frame and get more power in my legs.
"I do wish I were a little taller. But you cannot change the way you were born, so what I am trying hard to do is make the very most out of what potential I have."
Takanashi has enough potential to be Japan's biggest hope of a gold medal at Sochi 2014, the favourite among athletes who had to fight a prolonged battle to get women's ski jump into the Games.
Famously, in 2005, the president of the International Ski Federation (FIS) said there were 'medical' reasons to keep the women's event out of the Olympics.
Gian Franco Kasper told NPR: "Don't forget, it's like jumping down from, let's say, about two metres on the ground about a thousand times a year, which seems not to be appropriate for ladies from a medical point of view."
American ski jumper Lindsey Van, among the leaders of the movement to include women's ski jump and now a competitor at Sochi 2014, was livid.
"I kind of want to vomit," she said. "Like, really? I'm sorry, but my baby-making organs are on the inside. Men have an organ on the outside.
"So if it's not safe for me jumping down, then my uterus is going to fall out, what about the organ on the outside of the body?"
For years, nobody listened. Top athletes like Van took their case to court ahead of Vancouver 2010 - they won, but the court said the ruling did not apply to the 2010 Games. This time, FIS said the sport did not "reach the necessary criteria" for inclusion.
"I would love to know what the technical merits are," seethed Van. Jessica Jerome, Van's US team-mate, was asked to be a test competitor on the 2010 Olympic slope. She laughed at the insult.
The International Olympic Committee finally awarded the women Olympic status in 2011, leaving Nordic combined - which involves both ski jump and cross-country skiing - the only discipline at Sochi 2014 with no women's representation.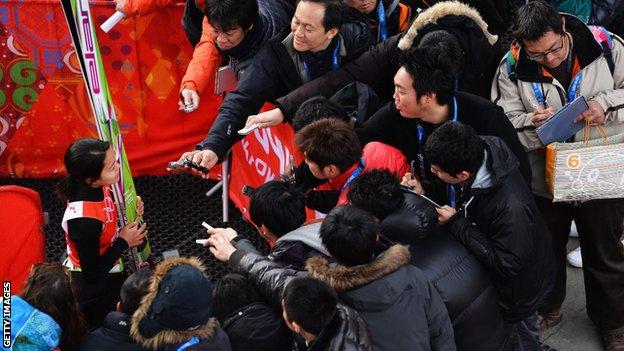 Takanashi was barely a teenager while all this was playing out, but she knows how important Van and Jerome are to her own Olympic future.
"I am very fortunate that I can jump at a time where things have already gotten better for us," she tells BBC Sport. "Female ski jumpers have had to overcome all kinds of challenges and really tough times to get where we are.
"Various people have been involved in this struggle. It's thanks to the female ski jumpers that have gone before me that I can be so happy and who I am today."
Nobody has been able to touch Takanashi on the women's World Cup circuit this season, largely because Sarah Hendrickson - the women's world champion, a US 19-year-old - spent the entire campaign out with torn knee ligaments.
Hendrickson and Takanashi should have been set for an enthralling scrap to land that inaugural Olympic gold. Instead, Hendrickson finds herself fighting against time in Sochi.
"I'm not very happy with these jumps. I didn't get the speed," she said after training here. "My knee is still not very good, but it's the best it can be in this situation.
"Because of my injury, I can't put high expectations on myself."
Rather than seeing this as one rival out of the way, Takanashi is saddened by Hendrickson's plight. The American is her hero. Takanashi would run up to US jumpers and pose for photos when she was younger.
"The first time I ever had the chance to go abroad, I vividly remember the awe I felt in seeing her," says Takanashi. "Ever since then, she has been an icon to me. I've learned a lot from watching her.
"I hope she'll be in top condition for the Olympics."
That seems unlikely, though the driven, single-minded Hendrickson may yet pull a surprise out of the bag. She will push her body to its limit on Tuesday, but the title is Takanashi's to lose.
Japan, meanwhile, holds its breath. The nation has a proud history in ski jump, not least at its home Nagano 1998 Games, where a now-legendary Japanese squad won team and individual gold.
Takanashi was two, but says she has watched the tapes. She and viewers at home understand her potential place in the ski jump pantheon.
"The level of interest is always very high and the television audience figures are fantastic," says Hirokazu Sakakibara, a producer with Japan's NHK TV, who has followed Takanashi for a documentary.
"Sara Takanashi is top of everyone's list when it comes to gold medal candidates in Sochi. Lots of fans have high hopes for her."
When Takanashi says, "If I were to win a gold medal, then it would not just be my gold medal," she does so with a nod not just to her family but to Hendrickson, Van and Japan's own sporting heritage.
She continues: "It would be a gold medal for all the people who have supported me up to now, all the people who have cheered me on, and everybody around me.
"Step by step, I am now trying to do everything I possibly can to repay them and show my appreciation."