Sochi 2014: Late arrivals result in empty seats at Winter Olympics

By Richard Conway
BBC Radio 5 live sports news correspondent
Last updated on .From the section Winter Olympics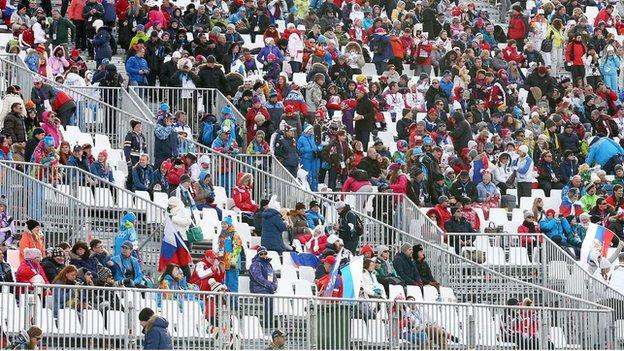 The Russian mentality of turning up at the last minute is the main reason for a number of empty seats on day one at Sochi 2014, say Games organisers.
Despite 92% of tickets being sold, venues on Saturday were only 81% full.
Sochi spokeswoman Aleksandra Kosterina said: "We might have lost around 10% of people who actually showed up.
"Russians like to come to the event not prior, but as close as possible, and that is why we had an issue of a lot of spectators being late for the Games."
She added: "During the first days, people are really working out how long it takes to get to the venues and how long it takes them to cross the security perimeter.
"We're working on it; we're trying to develop more communications with all means that we have got now, so we're hoping that that will improve."
In addition to those who went to ticketed events on Saturday, Kosterina said about 30,000 people visited the Olympic park.
Meanwhile, International Olympic Committee (IOC) spokesman Mark Adams said allegations in the French newspaper L'Equipe of collusion between Russian and US figure skating judges was a matter for the International Skating Union (ISU).
He said the IOC would not be launching an investigation and added he believed the claims - which centre on a reported deal that would see the US help Russia in the team event with the favour being returned in the ice dance event - was merely "gossip".
"Co-operation between the US and Russia? In this case, absolutely not," said Adams.
"I have seen absolutely no evidence apart from the claim, so we would treat that as a bit of gossip, frankly, which is groundless."
The ISU told BBC Sport in a statement that it "does not react to rumours or allegations without evidence".