Sochi 2014: Jenny Jones - Team GB's first Olympic snow medallist
Last updated on .From the section Winter Olympics
Snowboarder Jenny Jones made history in Sochi on Sunday by winning slopestyle bronze - Great Britain's first medal on snow in the history of the Winter Olympics.
By way of contrast, 22 medals over 90 years had been won on ice by Britons before the 33-year-old former chalet maid from Bristol leapt into the nation's living rooms with a spectacular performance at the Rosa Khutor Extreme Park.
Lying fifth after her first run, Jones was awarded 87.25 for her second - enough to take her into first place and bring an agonising wait as 10 rivals took on the challenging course.
With Jones barely able to watch, excitement gripping the BBC Sport commentary box and the likes of Andy Murray and Jessica Ennis-Hill following on social media, only American Jamie Anderson and Finland's Enni Rukajarvi managed to outdo the Briton.
When Austrian medal prospect Anna Gasser fell on the final run of the day, Jones's place on the podium - and in British sporting history - was confirmed.
The athlete
"I can't believe it," said Jones, a three-time X Games champion and the oldest competitor in the final by six years.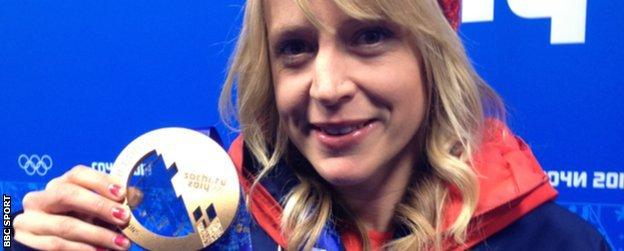 "I was just waiting because I knew I was going to drop down and down [the leaderboard] but I didn't know how far. I'm just so happy right now. I feel so proud to get on the podium. A few said, 'Is she past it?' but I did what I could and, thankfully, it got me on there.
"I absolutely did not think I would ever be in this position back then, when I was a chalet maid. I was cooking breakfasts, cleaning toilets. I was having a great time, I was snowboarding every day and that was amazing.
"It's still sinking in, the history part. Hopefully I'll be in a few pub quizzes now."
The friend
Aimee Fuller, Jones's team-mate, failed to make the final and watched her friend of five years from the BBC commentary box, where she ended the morning in tears.
"Jenny has been such a pioneer," said Fuller. "She's been a big role model of mine and one of my best mates, so to see what she's done today for British snowboarding is insane. I'm overwhelmed by everything and I could not be happier for her.
"We are rooming together at the Olympics and we hang out a lot together off the hill and enjoy the same things, like cycling and surfing. She's one of the most humble people I've ever met and also one of the most fun to be around.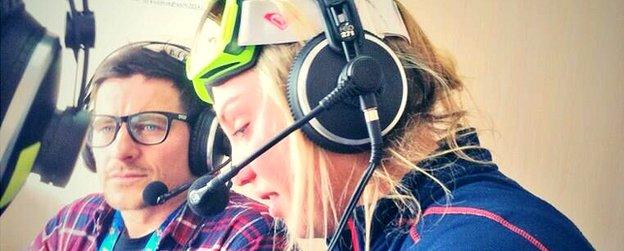 "It's the craziest feeling standing at the top and knowing so many people are watching you. This is the biggest stage that our sport has ever been on; it really is history in the making right here.
"I really just hope that everyone back home has had a taste of what we do. It seriously is the craziest sport. We travel around the world, we're like one giant family - especially us on the British team - and it's just so unique what we do.
"It is dangerous, it's fast, it's exciting, and that's what makes it so special. We're such a tight-knit crew and it's an honour to have been a part of this and just see what Jenny has done today. For British snowboarding it's unreal.
"It was an honour to be commentating on Jones - as I call her - I'll remember it forever."
The commentary box
Describing the action alongside Fuller were Ed Leigh and Tim Warwood, who did their best to contain their excitement while introducing the nation to new terms such as "squirrely".
"Jenny was second to drop and although it was a decent score, I wasn't sure it was high enough for a medal," said Warwood. "But, as we saw in the men's, anything can happen.
"As people kept falling over, I was getting happier and happier, which is really bad to say and, with it being my first Winter Olympics commentating for the BBC, I wanted to stay as professional as I could.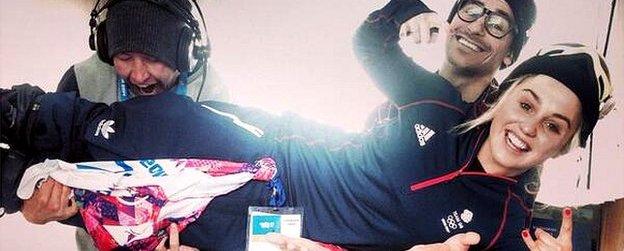 "I've known Jenny for 15 years - she's awesome, always happy and always fun and smiling. If the Olympics were four years ago, she would have been the gold medal favourite, but injuries and the fact the others have caught up to her standard meant a medal was not a given.
"Today was all about experience. Her runs weren't groundbreaking but she did it clean and big. I couldn't hold the tears in on air - I'd just watched my friend win a bronze medal.
"Nobody deserves the medal more. She deserves all the recognition she's going to get."
Leigh added: "I felt like I should do the professional thing, but I've lived through 20 years of her career now and to top it with an Olympic medal is the fairytale finish.
"She made a decision on the strength of what the judges said to go big and go safe, and the second was one of the best runs I've ever seen Jenny do."
The finish line
Four-time Olympic rowing gold medallist Matthew Pinsent was waiting, microphone in hand, to speak to Britain's newest medallist, and he had a surprise in store for her.
"I think it was just so emotional for us all," said Pinsent.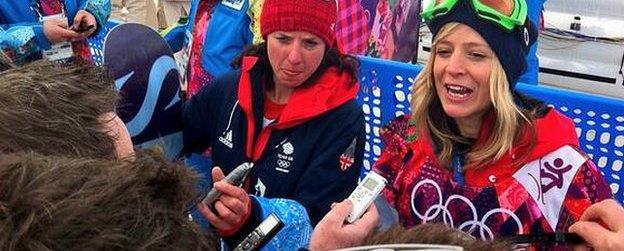 "When she got the big score and went into the gold medal position, the British team we could see nearby erupted, and it was great to see all of the excitement they and Jenny had - but then very quickly she was trying to stay calm because there were still so many athletes to go.
"We knew that Jenny didn't like having her parents there - it makes her anxious. She knew they were in Russia but didn't know where, as she doesn't like seeing them in competition.
"Once it was clear she had won a medal we got them down from the stands and hid them away. We hid them behind the camera and reflector panel, so when Jenny came over for the interview she had no idea.
"After a few straightforward questions I asked her what she would say if she saw her parents, and she looked up to the stands and said: 'Oh, I have to find them.' Well, I just stood to one side and out they came.
"It was an incredible moment as they all hugged one another and we didn't have a plan for it.
"Her dad collided with the camera and her mum wouldn't stop saying, 'We shouldn't be here [in the media area].' But the normally hard-nosed security staff were loving it and everyone around seemed to be celebrating.
"It was emotional for me as well - first the adrenaline rush of the medal and then to see the parents and her together."
The parents
Helen Jones: "It's absolutely unbelievable, she has never disappointed us. We have always been proud of her but, blimey, this is the icing on the cake."
Peter Jones: "We saw her win the first X Games gold medal, which was good because we thought we may put the kiss of death on her. This, we just wanted her to get to the final. That was the target."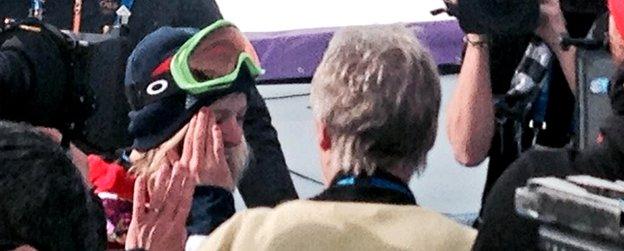 Helen Jones: "It's incredible - not a lot of mountains in Bristol where we come from but... wow! It's well-deserved and the Great Britain team have supported Jen with everything she has done, and I can't thank them enough for everything. If it hadn't been for them and that support, she wouldn't be here today."
Peter Jones: "I need a whisky."
Helen Jones: "I think we both need a drink and a long sleep. It's been great coming out here. From dry ski slopes in Gloucester to this - it's amazing."
The reaction
Jessica Ennis-Hill on Twitter: "Amazing. I was gripped!!"
Andy Murray on Twitter after Jones's final run: "Jenny Jones! Is it wrong to hope everyone left falls?" followed soon after by "Yesssssssssssssssss!"
Skeleton World Cup winner Lizzy Yarnold: "I'm in awe of Jenny and the fact she won the first medal for Team GB was so exciting. It brought tears to my eyes - it was a beautiful moment."
Olympic skeleton silver medallist Shelley Rudman: "There was a really great vibe in Team GB House with all the athletes watching Jenny, and she was incredible. I think it's really lifted the whole team and we're all really proud."
Liz Nicholl, UK Sport chief executive: "It's wonderful to see all the hard work and dedication of Jenny, her coaches and support staff, realised when it mattered the most. Jenny winning a historic first British Olympic medal on snow will create a huge sense of excitement and momentum within the team."
Sarah Lewis, general secretary of the International Ski Federation [FIS]: "For Britain to get their first ever snow medal is very exciting for FIS. The media attention for snowsports in general [in Britain] will be higher and hopefully also the interest and enthusiasm, not just in the media but from youngsters when it comes to participating,"