Sochi 2014: Craig Pickering admits back injury may end career
Last updated on .From the section Winter Olympics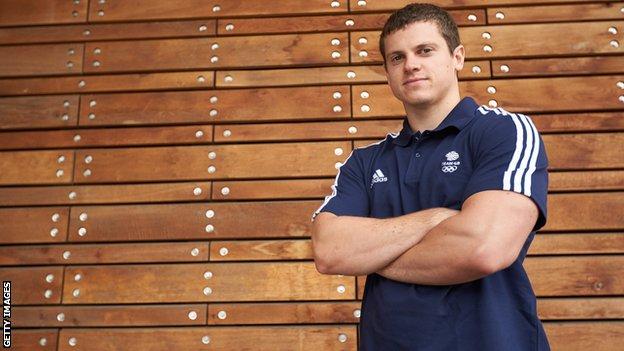 Craig Pickering fears the back injury that prevented him from competing in the bobsleigh at the 2014 Winter Olympics in Sochi may end his career.
The former sprinter, 27, was due to compete in the two-man and four-man events for Great Britain.
But he withdrew after being hurt during a training run and was later found to have slipped a disc in his lower back.
"Right now, my goal is to come back from this injury to a point where I can live a full life," said Pickering.
He told BBC Radio Leicester: "If sport is a part of that, then that's great. If not, that's the way it's meant to be."
Loughborough-based Pickering was part of Great Britain's sprint relay team at the 2008 Olympics in Beijing, but was unable to run at London 2012 because of an unrelated back problem.
He took up bobsleigh after losing his funding from UK Athletics after the London Games and made impressive progress in the sport, forming part of the four-man British team which finished fifth at the 2013 World Championships in St Moritz, Switzerland.
"The advice from the doctors is that this is a significant injury, in terms of how it's going to affect my sporting career," he added.
"Now I've got three consecutive discs in my lower back which are in a very bad way.
"I'm pretty disappointed. To have got through a year and a half of bobsleigh and qualified for the Olympics, and then pull out two weeks before it is tough to take.
"I was on a training run and went to pull the brakes, and everything in my back locked up.
"My mobility got worse over a couple of days. Eventually I went for a scan which showed up the damage and they flew me straight home."