Sochi 2014: Team GB pick John Baines for two-man bobsleigh
Last updated on .From the section Winter Olympics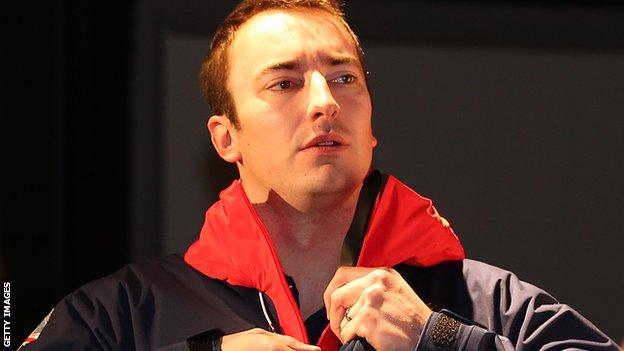 John Baines will replace the injured Craig Pickering in Great Britain's two-man bobsleigh at the Sochi Winter Olympics, says British Bobsleigh.
Pickering had to withdraw from the Games with a back injury.
Baines was already in the four-man team, but will now also compete with Lamin Deen on 16 and 17 February.
The duo have raced together as GBR2 in the two-man event in the Americas Cup this season and achieved a number of top-10 results.
Baines said he felt sorry for Pickering: "Spending so much time with Craig, racing and training with him, and then for him to go down at the last minute has affected us all as a team.
"We had such a good bond together , it's been quite a sad week.
"But on the other hand, I get to do the two-man as well as the four-man, so I'm quite happy.
"The training camp in Germany has been amazing and allowed us to train a lot harder than if we were at the Olympic village."
Deen said he was "devastated" to hear Pickering was out but added: "It is bittersweet, my heart is broken for Craig but we have four men in the team and I have worked closely in the summer with John and I'm quite confident that he can put in a great performance."
Pickering, a former sprinter who competed in Beijing in 2008 but missed out on London 2012 through injury, said his sporting career may now be over.
A decision on who will replace Pickering in the four-man still has to be made public, with the event on the final weekend of the Games.