Sochi 2014: Alain Baxter on winning & losing Olympic bronze

By Anna Thompson
BBC Sport in Sochi
Last updated on .From the section Winter Olympics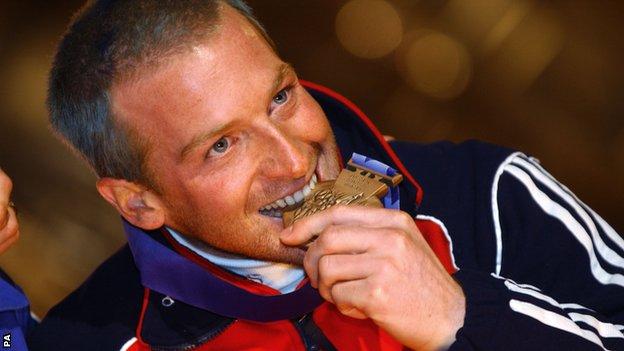 Kerr Baxter is aware his dad was a ski racer who won a medal at a Winter Olympics.
"Kerr saw the pictures of me from Salt Lake City and drugs were mentioned. He started asking me about it and I thought 'here goes'. He knows I won a medal but I no longer have that medal, and it's hard to explain why to a seven-year-old," Baxter told BBC Sport.
The Scot was Britain's first Winter Olympic medallist on snow 12 years ago, finishing third in the slalom in Salt Lake City.
But he had to hand his medal back after a drugs test found a trace - 20 millionths of a gram - of a banned substance in his post-race sample, which he said was the result of an over-the-counter nasal inhaler he bought in the US.
He was supported in his appeal to the Court of Arbitration for Sport (Cas) by the British Olympic Association.
Cas confirmed the amount of methamphetamine in his body was not enough to enhance his performance but because of the International Olympic Committee's strict liability rule, where athletes are 100% responsible for what is ingested in their bodies, it had to rule in the IOC's favour.
Baxter's bronze was expunged from the history books, and Austria's Benjamin Raich given the medal in his place.
Fast forward to Sunday, and Jones's bronze medal at the Rosa Khutor Extreme Park saw her claim the title of Britain's first medallist in a snow sport at a Winter Games.
"I was actually watching Jenny at [former British Olympic downhill skier] Finlay Mickel's house as the kids had a sleepover there," Baxter, 40, said.
"It was quite hard to take when they were saying about it being a historic medal for Britain.
"But I was so, so happy for Jenny and I've actually sent her an email, congratulating her and telling her to enjoy it all. She'll be overwhelmed by how massive her achievement is."
The BBC commentators did mention Baxter before joyfully celebrating Jones's third place, with Aimee Fuller, who had competed in the slopestyle, declaring on air: "I still think Baxter's a bronze medallist."
He has received lots of messages of support from fans who still believe he was wronged and a petition has been set up calling for his medal to be returned, with nearly 2,000 signatures in the past three days.
"It's touching the support I've received. There were a lot of comments on my Facebook page," Baxter said.
"You never know what will happen in a few years' time. There have been examples of decisions changing after many years. I'd gladly receive the medal back, no matter how long it takes."
Baxter did return to ski racing after serving a ban, and competed at the 2006 Games in Turin, finishing 16th. He retired from competitive racing in 2009.
Now, the father-of-three has a ski-boot fitting service in Stirling, coaches, and works for Head in building race boots, including those worn by Bode Miller and Ted Ligety, both of whom have won Olympic gold medals.
But he is still angered by his treatment by the IOC, and questions why the on-site laboratory in Salt Lake City had already closed before he competed. With the slalom one of the last events of the Games, his sample was sent to Los Angeles, where the machine used, he says, was more sensitive than those at the Winter Olympics.
Baxter, though, prefers to remember the good memories, rather than dwell on the heartbreak that followed.
"I can remember clearly the feeling of winning the bronze, the flower ceremony, the medal ceremony, the homecoming in Aviemore with my friends and family," he said. "It was amazing and no-one can take that from me. To see my parents and grandparents so proud, and the national attention I received was overwhelming. It meant so much to a lot of people, it was massive."
Baxter was brought up in the Cairngorm mountains to a family of fine skiing stock. His children, Kerr and younger sisters Brooke and Callie - aged five and three, already ski and have been watching the Sochi Winter Olympics.
"Kerr is at an age when he understands a lot more. He was amazed when he saw the footage of thousands of people turning out for my homecoming and realised how famous I had been," Baxter said.
"After the reaction to Jenny's medal, he looked up pictures of me online and, without my knowledge, saved the one of me with the medal as the screensaver on my tablet, which I thought was very sweet of him. I might just keep it on there for a wee bit. He'd notice if I change it back."