Sochi 2014: Woods, Christie, Yarnold, Rudman seek GB medals
By Nick Hope
BBC Olympic sports reporter
Last updated on .From the section Winter Olympics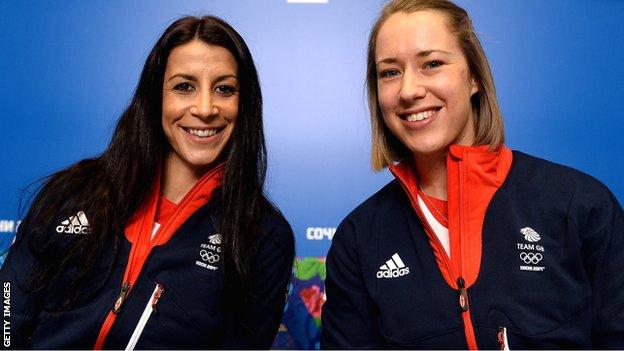 Day six in Sochi could prove pivotal in Team GB's bid to make these Games their most successful Winter Olympics.
Britain has been set a target of between three and seven medals by UK Sport, with the best ever four in 1924.
Snowboarder Jenny Jones won the first on Sunday, whilst skier James Woods and short track speed skater Elise Christie could add to that on Thursday.
World Cup champion Lizzy Yarnold and world gold medallist Shelley Rudman also begin their bid for skeleton gold.
The British team has won only one medal at each of the last two Olympics, with Rudman's 2006 Turin silver and Amy Williams' 2010 Vancouver gold. both coming in skeleton.
However, nine individual Team GB 2014 Winter Olympians and three teams [men's and women's curlers, plus four-man bobsleigh crew] have won World Cup medals over the past 18 months, boosting prospects of success in Sochi.
UK Sport director of performance Simon Timson believes Britain's Winter Olympians are now shedding a "plucky losers" mentality and starting to expect to win medals.
"British Olympic winter sport is definitely having higher and higher expectations of itself," he told BBC Sport.
"We're seeing that change in the athletes' mind-set where they're no longer happy to just make a final; they want to be on the podium and they're genuinely disappointed and gutted [if they're not]."
Skeleton, which starts on Thursday and concludes on Friday after four heats split across the two days, again provides arguably Britain's best chance of Olympic gold.
Yarnold, who set a British record of seven World Cup podium finishes this season, has posted the quickest times in four of her the five training runs.
"This track is a lot of fun to slide on," she said.
"There is no more pressure that anyone else could put on athletes that we don't put on ourselves, but if the butterflies are flying in the right direction, it can really help your performance."
Rudman, who finished sixth four years ago, believes there are several athletes who could challenge for honours in Sochi.
"I think the competition is going to be really exciting to watch," said the 32-year-old.
"Definitely Great Britain with Lizzy, the Americans [Noelle Pikus-Pace], as well as the Germans [Anya Huber and Marina Gilardoni] are quite strong now.
"I think it's going to be quite an open race. It will be intriguing."
Woods, 22, admitted on Wednesday that he is "not 100%" after suffering a hip injury following a crash in ski slopestyle training last week.
Last season's World Cup champion says he will do "everything possible" to produce his best performance.
"I've worked a lot to get here," he told BBC Sport. "I want to come across the best I can and I'm not going to throw the towel in."
British freestyle skiing head coach Pat Sharples added: "It's been the highest standard of slopestyle skiing I have ever seen, but I believe he can still be a contender [for a medal]."
Christie, 23, is a 1000m specialist and has traditionally struggled over the shorter 500m sprints, but looked impressive during the qualification rounds on Monday and will be joined by team-mate Charlotte Gilmartin, 23, in the semi-finals.
"This is a good chance to warm up and work on any weaknesses in a competition environment because the 500m is not so important to me," Christie said.
"I'm using this to build into the other two events [1000m and 1500m]. It's been nice to get here and just get a feel for the environment."
Great Britain's 2013 world championship-winning women's curling team will continue their bid for Olympic glory with a group fixture against China.
The British men, who were world bronze medallists last year, take on the United States.
Additional reporting by Richard Conway