Sochi's 'snow whisperer' keeps Winter Olympics on track

By Richard Conway
BBC Radio 5 live sports news correspondent
Last updated on .From the section Winter Olympics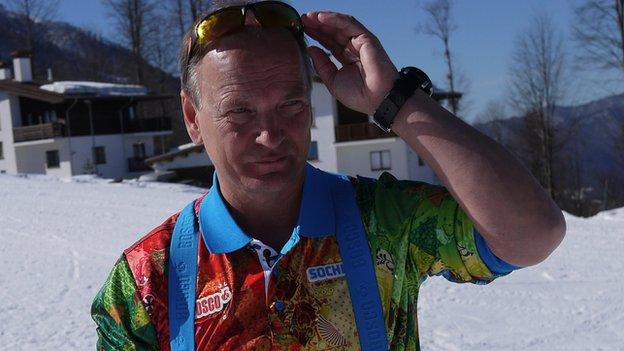 Mikko Martikainen looks at snow in a slightly different way to everyone else.
"Every autumn when I'm at home in Finland I see the first snowflakes fall. I stop wherever I am and go home or find a hotel.
"I put a CD on of Piano Concerto Number 2 by Rachmaninov and I take a Cognac to salute the first snow."
But if snow is a passion to Martikainen - a "big love story," as he describes it - it has also become a professional mission, a three-and-a-half-year process to refine what he calls "his masterplan" for making it, storing it and using it.
Recognised as a world expert - he has been described as "the snow whisperer" - Martikainen is the man Sochi 2014 Winter Olympic organisers have been relying on to ensure snow is not only available but distributed in the right places throughout the Games.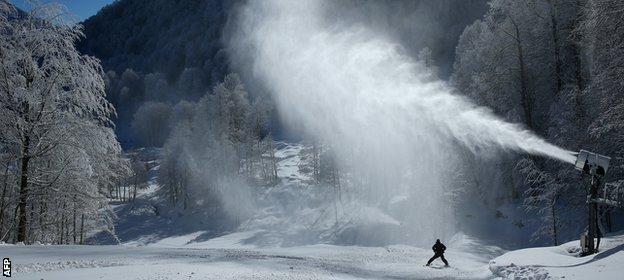 Given the Russian host city's sub-tropical location on the Black Sea coast, organisers of these Winter Olympics knew they had to make contingency plans in case Mother Nature failed to deliver or, as has happened, temperatures started to rise during the Games.
Over the past few days, that temperature rise - and the resultant thaw - has exposed large areas of the tree-lined hillsides around the Olympic sites.
While the mountain peaks still glisten with snow, large areas hardly resemble the winter wonderland that many expect to find at the Games.
What Martikainen provides is both his own snow-making process - one he maintains is unique to the Winter Olympics - and supervision of the collection and storage of the snow that has fallen naturally on the hills in the months preceding the Games.
His operation is based in an area called Ruski Gorski and works by passing treated waste water through a process that Martikainen has developed himself. Out by the ski jump venue, fresh crystals of snow cascade from two chutes into containers.
From there the manufactured snow is transported to the Olympic venues and spread by volunteers, using 500 snow blowers.
Specialist techniques are also used to modify the snow according to what is needed for the different events - harder snow for Alpine skiing and softer snow for cross country or biathlon, for example. Different types of salt are usually mixed into the snow to create the right composition.
As back-up, Martikainen has a storage method he created 12 years ago in his native Finland.
He made and collected snow in huge piles last winter, insulated it through spring and summer and then transported the snow to the venues in November and December last year.
"In spring you collect snow," he explains. "You cover and insulate it during the summer when it will melt a bit. In early winter, you take the covers away and there you have snow."
Various methods of insulating stored snow exist, including the use of aluminium and plastic.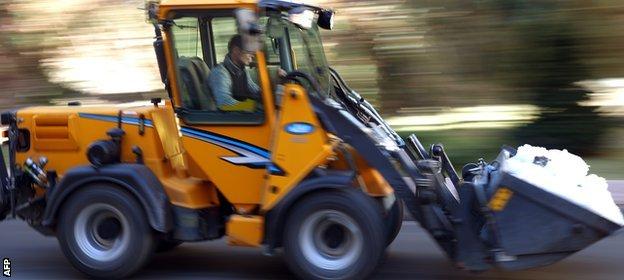 "In Finland we use sawdust because it's easy and available," says Martikainen. "In a way it's the best - it insulates and when it gets wet, evaporates."
The Finn sees himself as an entrepreneur rather than an engineer - "Sometimes I can create something crazy because I don't know just how difficult it will be," he laughs - but had to learn the principles of thermodynamics in order to master effective snow storage.
Once the snow has been created or collected the number of kilowatt cooling hours - essentially, the time it would take the snow to melt - needs to be determined.
"When you know that, and the weather statistics, you know how much insulation you need."
If the stockpiles are called on, there is then the problem of distributing tonnes of dense, semi-melted snow to where it is needed.
In Sochi, he has created over 1.5 million cubic metres of snow in total - enough to fill four giant oil supertankers. That figure includes 450,000 cubic metres of stored snow around the mountain tops in case it is needed.
But Martikainen, like the Sochi organisers, is confident the snow now in place is of both a sufficient quantity and quality at the various Olympic venues that surround the mountain town of Krasnaya Polyana.
"Storage is like an insurance in case the first part of this winter was warmer than normal. But in December it was cold enough so we turned on the snow-making systems in every venue - so we didn't need the stored snow.
"The ordinary snow-making process is the backbone of the venues."
An additional difficulty is managing the quality of the snow in situ. If fresh snow falls on compacted manufactured snow, the natural fall has to be hardened before it can be used. "No-one wants to have powder snow on the downhill track," Martikainen notes.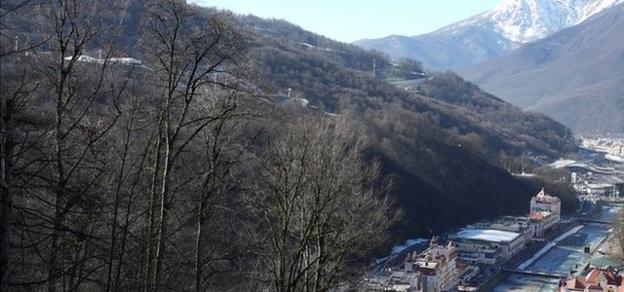 But thaw and even rain, rather than fresh snowfall, has been the problem at these Games, with some competitors complaining that the quality of the snow has been too slushy at times.
Martikainen - who first contacted the International Ski Federation (FIS) to offer his services while watching organisers struggle at Vancouver 2010 following an unusually mild winter - is keen to defend the process he has overseen.
"Snow is a living material," he says, holding a handful of powder.
"The quality of snow at the halfpipe was not absolutely perfect," he concedes. "[But] it was very rainy beforehand.
"It can happen - in the Olympics, everything cannot be always perfect.
"At the ski jump the temperature was 14C, a record high temperature for a Winter Games. We had very good snow - perfect, white compact snow. Absolutely no problems.
"If we can manage with that [temperature], it is possible to do it at every venue."
And, while he stresses the venues themselves are the responsibility of the FIS now competition is under way, Martikainen remains confident there will be no significant problems for the remainder of the Games.
"There's a lot of snow in the surrounding areas and snow cannot melt in a second," he says.
"Even though we are in a sub-tropical area, we have mountains. Night-time in this area is freezing.
"We have faced some challenges, but the snow on display at the competitions shows what is possible.
"So don't worry about the amount of snow - that's guaranteed!"