Sochi 2014: Ice hockey, the gold medal Russia cannot afford to lose
By Ollie Williams
BBC Olympic sports reporter in Sochi
Last updated on .From the section Winter Olympics
If you have never seen ice hockey before, watch Saturday's game between Russia and the United States.
This may only be a group-stage game (12:30 GMT start) but the clash encapsulates one of the most important stories of Sochi 2014, and of Winter Olympic sport.
For Canada, the United States and above all Russia, this year's Olympics are not complete - never mind the nation's success elsewhere - without men's ice hockey gold.
"This is very important for all of us," Russia coach Zinetula Bilyaletdinov told BBC Sport. "We've been waiting for it for many years. Everybody is expecting a big result from us."
Not least President Vladimir Putin, for whom the Sochi Games are not just a source of national pride - they are a personal project.
But Russian fervour for Olympic hockey glory extends far beyond Putin's glare. No Russian team has won the title since the break-up of the Soviet Union (though some Russians took part in the "Unified Team", representing six former Soviet republics, which won gold in 1992).
Players used to the domination of Soviet times are fed up with this lack of success, embodied in a quarter-final defeat by Canada at Vancouver 2010, a Games in which the whole Russian Olympic team finished a miserable 11th in the medals table.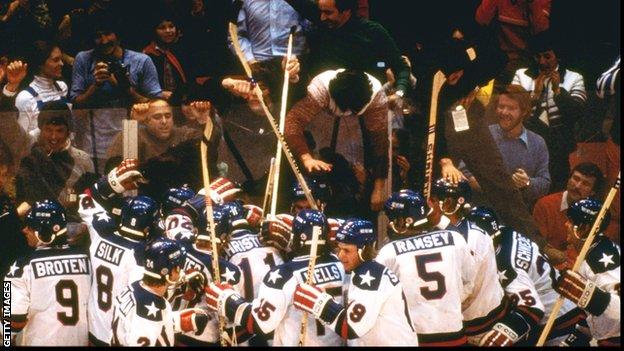 "The entire country will be looking at you," read a recent open letter from those Soviet heroes, aimed at today's squad. "In our time, we did everything for victory. We glorified the USSR, our people and our sports. Don't let Russia down."
Sweden, and to an extent Finland and Slovakia, are medal threats at Sochi 2014, but the Olympic hockey tournament has long been sold as a tale of Russia versus North America.
This harks back to the famed "miracle on ice" of 1980, in which an amateur US team defeated the Soviet Union against the odds on the way to gold.
"Do you believe in miracles?" Intoned broadcaster Al Michaels as the clock ran out, the US having come from behind to win 4-3. The clip is among the most cherished sporting moments in American history.
Vladislav Tretiak, former Soviet goaltender and legend of the sport, played in that game. Earlier this month, he told reporters: "It was a miracle. It was a good lesson the Americans taught us."
Now, Tretiak is one of the signatories to the open letter. The message: learn that lesson. No miracles here on home ice.
"All the Americans are reminding us about 1980," chuckled Bilyaletdinov as his team trained before the Sochi Games. "But we've forgotten about it. This is a new time, new teams, and a new game."
Bilyaletdinov is right: hockey at the Olympics is now unrecognisable in comparison. No longer an amateur's domain, the tournament is packed with National Hockey League (NHL) stars on every roster (Sweden, for example, has only one non-NHL player here) while Russia also calls on leading lights from its own KHL (Kontinental Hockey League). Games from both leagues are shown around the globe.
Back in 1980, the 'miracle on ice' was a sensation partly because the game represented a clash of ideologies where your opponents were enigmatic enemies from a foreign land. Today, they probably play alongside you back home.
Alex Ovechkin is a prime example of a Russian with whom fans across the globe will be familiar. Ovechkin is captain of the Washington Capitals in the NHL and is one of the league's leading lights.
Players like Ovechkin hold Russian hopes in their hands. He called Vancouver 2010 "a failure" but here, four years later, he is playing it cool.
"I'll be honest with you, I don't feel the pressure right now," he said earlier in the week. "But a bit later, I'm going to feel it. We just have to play great."
The pressure inched up a little after Russia's opening game, in which they beat Slovenia 5-2. It was a win, but fans wanted a much bigger scoreline against the Slovenian minnows.
According to the Associated Press, one Russian reporter told coach Bilyaletdinov it would be a "death sentence" if he stuck with the same goalkeeper for Saturday's clash with the US.
Feelings run high because, for all the warmth breathed into world sport since the Cold War ended, ice hockey remains one the greatest fundamental tests of strength between the superpowers of yesteryear.
At home, no Russian wants to lose a test of strength.
"This is the ultimate in the world of hockey," US coach Dan Bylsma told BBC Sport. "This is the prize possession.
"Evgeni stopped talking to me a few days ago," joked Bylsma, referring to Evgeni Malkin, the top Russian player he coaches with NHL franchise Pittsburgh Penguins.
"It's like playing your brother. You battle with some of these guys on the same side of the ice, now you're playing against them.
"This place is going to be absolutely off the charts," he added, gesturing to the ice inside Sochi's Bolshoy Ice Dome. "It's going to be rocking here."