Sochi 2014: IOC drug testers 'will find cheats' sooner or later

By Richard Conway
BBC Radio 5 live sports news correspondent
Last updated on .From the section Winter Olympics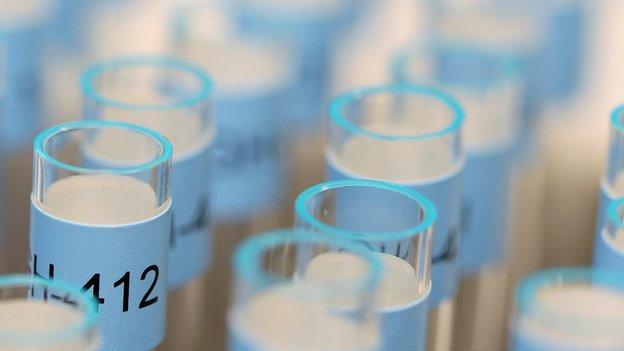 The International Olympic Committee say it is outsmarting potential drug cheats at the Sochi Winter Olympics.
Arne Ljungqvist, the head of the IOC's medical commission, also reiterated that test samples taken in Sochi can be re-analysed over the next 10 years.
He warned that any athlete who has doped, and goes undetected, will be caught in the future.
"Who is smartest? The athletes and their entourage or our scientists?" said Ljungqvist.
"I put my money on our scientists - [they are] probably smarter than those who are around the athletes.
"The message to the athletes is that if you cheat, if you take drugs, if we don't find you now we will find you sooner or later."
No positive tests have been discovered in Sochi so far from the 1,799 samples that have been collected as of Saturday night, said the IOC.
Ljungqvist believes that is a signal that the IOC's anti-doping policies are proving effective.
"It's not a surprise to me. In Vancouver, for example, we just found one [positive test]. It shows that our programme is pretty efficient and serves as a deterrent. I hope that will stay throughout the Games.
"It may not always have been the case because our resources may have deficient in earlier years.
"In Albertville in 1992, there was no one found [with a positive drug test]; in Lillehammer there was no one found; in Nagano no one found.
"All of a sudden in Salt Lake City, seven were found. And in Turin seven more.
"Now we are going down again. It could be a picture of increased smartness from our side and that people are aware of that."
The IOC is in charge of anti-doping within the Games but has delegated the testing process to the Sochi 2014 organisers and Russia's anti-doping agency (Rusada).
Testing within the venues and within the athletes villages is performed by Sochi 2014, while outside Olympic grounds Rusada has been given responsibility for pre-competition tests.
In total, 2453 tests will be conducted under the IOC's authority for the Sochi Games, with 1269 carried out pre-competition and the remaining 1184 tests from medallists and other athletes selected after they have competed.
The IOC passed a resolution last year that increased the length of time that doping samples can be stored from eight to 10 years.
The rationale is that samples can be re-analysed for performance-enhancing substances that were unknown at the time of competition or to allow for new testing techniques to be utilised.
The process to re-analyse samples taken at the Turin Winter Games in 2006 has now, the IOC confirmed, been completed.
However the results, and any athlete caught out by the re-analysis, will not be announced until after the Sochi Olympics have concluded.
"This possibility to preserve samples and make further testing has been exercised by the IOC since the Athens Games [in 2004]," said Ljungqvist.
"Very few international federations and associations are doing this. And I expect many more event organisers and anti-doping organisations to do this.
"It's an important deterrent. If the athletes know that 'if I get away with it today' they are steadily, for a 10-year period, under threat of being identified."
"Beijing is an example of where we didn't have the methodology of the new generation of EPO. So we went back later and found samples and cases."
"We have better methods today than we did in 2002 in Salt Lake City. We can identify if substances have been used for a much longer period back than we could at that time."
The IOC says it is also making better use of information given to them and they are targeting specific athletes they suspect could be using drugs.
"Like in London, even more perhaps here, [we're using] intelligence and information that we have," Ljungqvist confirmed.
"It's coming from various sources - including international doping organisations, international federations, national Olympic committees, government agencies and WADA.
"We get information about athletes' - or groups of athletes' - suspicious behaviour. It can result in targeted testing against athletes or groups of athletes. It is a way of making use of our resources in an efficient way."