BBC Sport - Sochi 2014: GB men's curling team lose 7-5 to Canada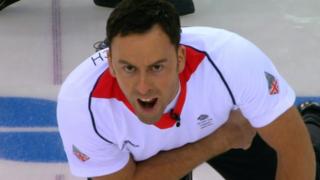 GB men lose after last-stone gamble
Great Britain's men's curling team lose 7-5 to Canada, after missing a risky shot with the final stone.
Going in to the 10th end 6-5 behind, David Murdoch chose a risky all-or-nothing final play, which did not succeed in knocking out both Canadian stones.
The team now have a round-robin record of five wins and two defeats. They are joint third in the table with five points and two games left to play, with the top four teams progressing to the medal matches.
Available to UK users only.