Sochi 2014: Russia win two-man bobsleigh after GB/Jamaica exits
By Nick Hope
BBC Olympic sports reporter in Sochi
Last updated on .From the section Winter Olympics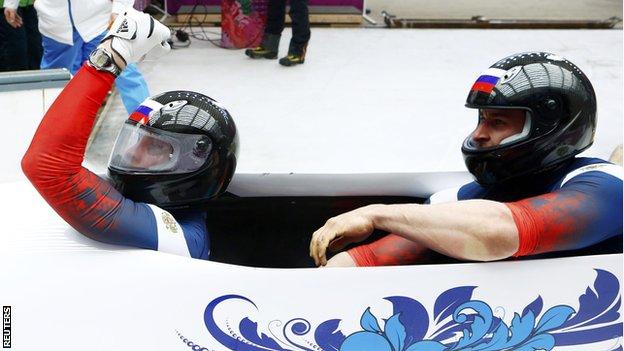 Russia have claimed their first Olympic bobsleigh gold, with pilot Alexander Zubkov guiding the host nation to a commanding victory in Sochi.
Alongside Alexey Voevoda, Zubkov recorded a combined time of three minutes 45.39 seconds for four runs.
They finished 0.66 secs ahead of Switzerland, who took silver, while the USA sled, piloted by World Cup champion Steven Holcomb, finished third.
Great Britain were 23rd with the Jamaicans finishing 29th out of 30.
The success of Zubkov and Voevoda gave Russia their fifth gold medal of the Games.
The Team GB duo of Lamin Deen and John Baines were only paired last week following the withdrawal of Craig Pickering through injury.
They did not feature in the fourth and final run after they finished outside of the top 20 which qualified from round three.
"It hasn't been easy as we haven't had much time to prepare, but I felt we were getting better each round," Deen told BBC Sport.
"We've had an extra nine runs on the track though and that will really help us come the four-man event."
Jamaican pilot Winston Watts, 46, said he was disappointed the team could not finish higher but was delighted by the response to their presence in the event.
It was the Caribbean island's first appearance in bobsleigh at the Winter Olympics since 2002.
"We didn't achieve what we wanted to, but we lit up the Games and I'm pleased with how the crowds have supported us here in Sochi," said Watts, who also represented his nation in the 1994, 1998 and 2002 Olympics.
Breakman Marvin Dixon added; "I'm telling you now, we will be at the next Olympics in 2018. I truly believe that."
The women's two-man event begins at 15:15pm GMT on Tuesday, whilst the four-man men's competition begins on Saturday at 16:30pm GMT.