Sochi 2014: British skier Rowan Cheshire withdraws from halfpipe
By Anna Thompson
BBC Sport in Sochi
Last updated on .From the section Winter Olympics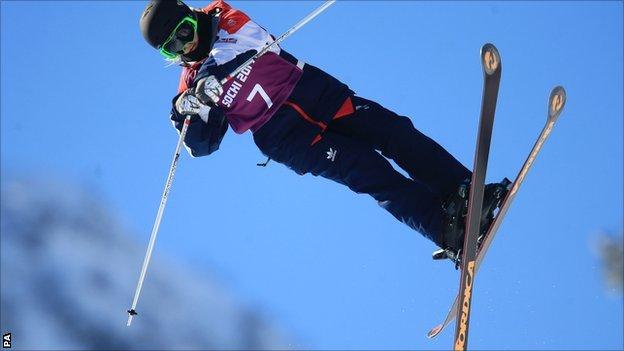 British halfpipe skier Rowan Cheshire has withdrawn from the Winter Olympics as she recovers from a crash in training that left her unconscious.
She was due to compete on Thursday but the teenager needs more time after Sunday's incident, Team GB said.
"I am hugely disappointed I won't be able to compete. I felt I was coming into my best form of the season and had my tricks nailed," said Cheshire, 18.
Emma Lonsdale will now be the sole GB entrant in the women's competition.
"After experiencing what it is like to be at an Olympic Games I am determined to be back in four years time and be up there competing for an Olympic medal," added Cheshire.
"I cannot express how grateful I am for all the get well messages and support I have had from everyone here in Sochi and back in the UK. It means a lot."
Cheshire spent the night in hospital after falling heavily on her face at the Rosa Khutor Extreme Park in Sochi.
She tweeted a picture of her bloodied face on Monday and wrote: "Wasn't the best day yesterday, still don't remember much!"
Cheshire, who won her first World Cup event in January, was considered an outside medal chance in Sochi.
After being examined by Team GB medical staff it was decided she needed more time to fully recover from the injury before returning to competition.
Head coach Pat Sharples said: "We are relieved that Rowan is on the mend but naturally upset for her that she won't be able to compete in Sochi.
"Rowan is only 18 and has a bright future ahead of her. I have no doubt she will back in four years' time more determined than ever."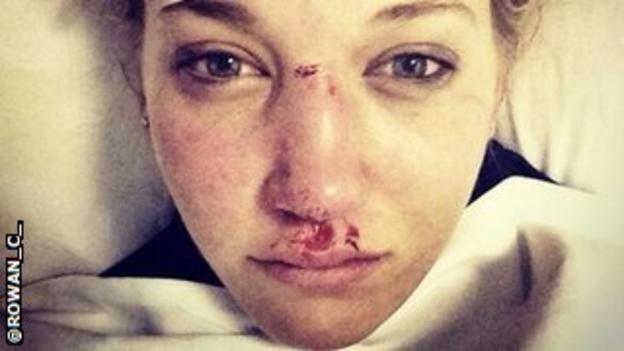 "With a concussion injury there needs to be a rest period followed by a graduated return to play phase. The time scale is unfortunately too tight for Rowan," added Niall Elliott, Team GB's chief medical officer.
British pair Murray Buchan and James Machon compete in the men's event on Tuesday, as ski halfpipe makes its Olympic debut.
Team-mate Buchan told BBC Sport: "We've all come here to do a job, and compete at the highest level, and that's the way the sport goes sometimes - there are crashes, there are injuries and she would want us to keep skiing."
There have been a number of injuries at the Extreme Park, the worse being to Russian skicross racer Maria Komissarova, who broke her spine during training and underwent an emergency operation and is now recovering in hospital in Germany.
The International Olympic Committee said it had no concerns about the course conditions and maintained there had been no more crashes and injuries than in previous Winter Games.
"Health and safety of the athletes is our number one priority," IOC spokesman Mark Adams said.
"Winter snow sports are not without their risks, but we don't see any difference between this Games and the last one."