Sochi 2014: Eve Muirhead ready to realise Olympic curling dream
By Rob Hodgetts
BBC Sport in Sochi
Last updated on .From the section Winter Olympics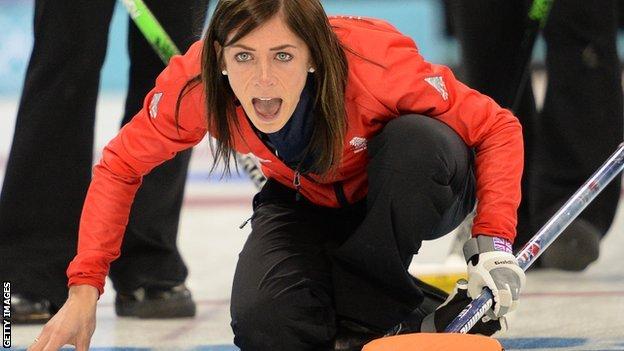 Eve Muirhead had to stay up well past her bedtime to watch fellow Scot Rhona Martin clinch Olympic curling gold at the 2002 Games.
When Martin led Great Britain to glory in Salt Lake City - with the so-called "stone of destiny" in a tumultuous final that had six million people in a nation of non-curlers glued to their TVs in a late-night vigil - the current British skip was just 12 years old.
But the moment made a huge impression on her.
At school the next day in Perthshire, all the talk was of Martin and her team. But Muirhead, who had taken up curling three years before, vowed to do more than just talk. She was going to win gold too.
"From that moment, it was what I wanted to do. I wanted to be like Rhona and win an Olympic gold medal," she said.
Muirhead did not take long to advance her dream, winning three World Junior Championships before getting her first Olympic chance at 19 when she was selected to skip for Great Britain at the Vancouver Games in 2010.
But despite high expectations, the team failed to get out of the group stages and a devastated Muirhead later admitted she had felt "star struck". Four years on, a "more mature" Muirhead is back and on Wednesday will lead Great Britain in the Olympic semi-finals against unbeaten Canada.
Muirhead, it would seem at first glance, was destined to be a curler.
Her father Gordon is a two-time World Championship runner-up and was a member of the Great Britain team that finished fifth at the Albertville Olympics in 1992. Older brother Glen has curled for Scotland and younger brother Thomas represented Great Britain at the 2012 Winter Youth Olympics in Innsbruck, Austria.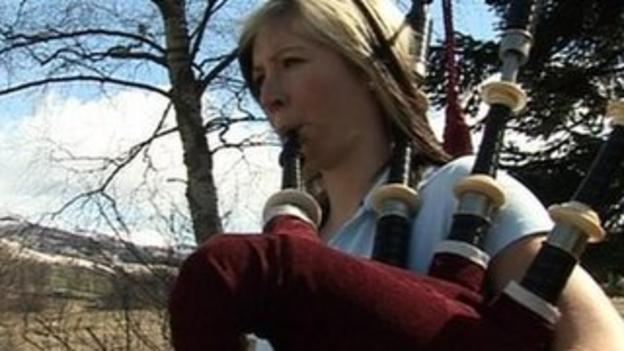 Muirhead followed in the family tradition and took up curling at the age of nine. But she nearly passed up a life on the rink for a life on the greens. As a talented scratch-handicap golfer, she was offered golf scholarships to several US universities, but turned them down to pursue her curling ambitions.
"With golf, it's tough to make it to the top. I knew from a young age that I had good opportunities to do well in curling," said Muirhead, who is also an accomplished bagpipe player.
In 2011, she won another World Junior Championship and European title, but there were was trouble ahead. In 2012, after Muirhead's team finished only second at the European Championships, UK Sport halved their funding and she seriously considered her future in the sport.
But the passion was too strong and, inspired by the 2012 London Olympics - and particularly heptathlon champion Jessica Ennis-Hill - Muirhead persevered. With the help of a private sponsor, she went on to skip her Scotland team to a dramatic last-stone victory against Sweden at the 2013 World Championships in Latvia.
That earned them another shot at Olympic gold, and another chance to emulate Martin, who is now the GB coach.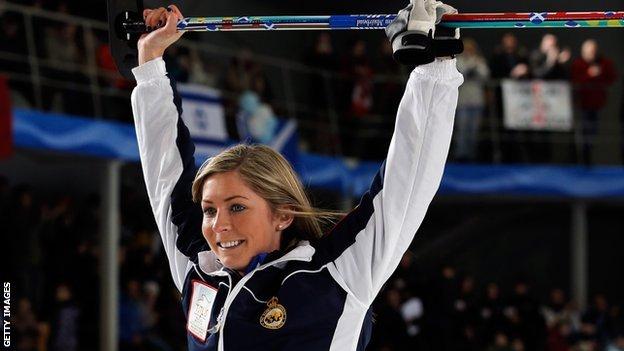 But Muirhead and her team of 20-somethings - Vicki Adams, Claire Hamilton and Anna Sloan - represent a new breed of curler.
When Martin won she was a 36-year-old housewife with two children. Curling was part-time until a few months before the Olympics.
Muirhead's mob, on the other hand, are full-time professionals, with daily double gym sessions, nutritionists and psychologists.
Curling is changing worldwide, too. Russian skip Anna Sidorova is becoming something of a celebrity and, along with some of her team, featured in lingerie photoshoots before the Games. Unsurprisingly, they draw devoted, noisy crowds whenever they play, while some of world curling's male players have featured in their own racy calendar.
The sport once mocked as "housework on ice" is quickly becoming more a plaything of the social media generation.
"A lot of people look at curling and think it's a sport for the older generation, but that's not the case and hopefully a lot more young people can get involved," said Muirhead, who is finding a Twitter and Facebook ban hard in Sochi.
Great Britain will be the underdogs against Canada, but Jackie Lockhart, one of the GB team from Vancouver, believes Muirhead is more prepared this time around.
"Eve has grown up massively over the last four years. She's still only 23 but she's very professional on the ice," said Lockhart.
"She is a fiery character who will crucify herself if she doesn't make a shot 100%, and she can't allow that to happen in the semi-final.
"She has got to be focused and she is not afraid to make the big shots, which is what will worry Canada skip Jennifer Jones."