Sochi 2014: The Olympic ice hockey final, featuring Britain
By Ollie Williams
BBC Olympic sports reporter in Sochi
Last updated on .From the section Winter Olympics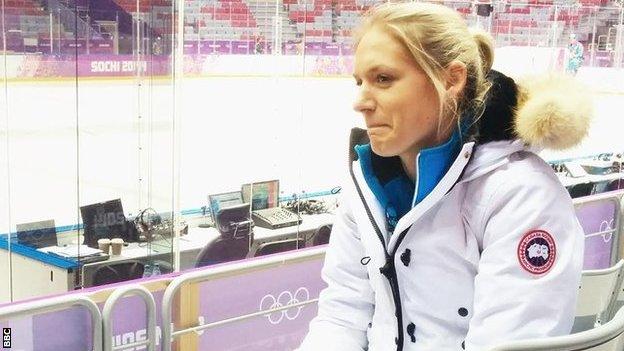 There is a Briton in the Olympic ice hockey final.
Just look for the stripes.
"This is the biggest game I could ever officiate," says Joy Johnston, wrapped in a warm winter jacket, sitting inside Sochi 2014's Bolshoy Ice Dome.
Thursday's women's final between the United States and Canada, which starts at 17:00 GMT, will be the defining moment of her career, in the largest arena at these Games. Her other three ties to date have been in the smaller Shayba Arena, next door.
The final is, in every sense, a bigger stage. The two best teams in the world. The finest referee in the world?
"I've got to be up there otherwise I wouldn't be doing this game," says the 31-year-old, having paused in search of a more modest way to say that.
How does it feel? "Pretty awesome. My emotions are still running high. I've had a couple of days to prepare myself, but I want to go out there and do the best game I possibly can."
You do not end up in an Olympic final easily, either as a player or an official. This is the culmination of almost two decades' work for Johnston, alongside her day job.
"I was 11 years old and I wanted to learn how to skate," she explains. "I went down to my local rink in Romford (in Essex), and my dad gave me the choice between ice hockey and figure skating.
"At that age, I decided hockey looked less dangerous because you wear a lot of padding.
"I started playing and my dad started refereeing, so I took the course with him - and it took off from there. I started my career at a really young age, got my international licence, did a few tournaments, got graded really well and ended up at the Olympics in Turin. Here I am at my third Olympics."
Johnston almost missed this chance. Beginning with her first steps on the ice, her father had been her guide and encouragement. He died suddenly in 2011.
"It's still something that upsets me," she says. "It was tough and I almost decided to step off the ice. But I had a lot of support from back home. People wouldn't let me hang up my stripes, and I have them to thank for being here today.
"It took a lot of hard work - I wasn't training or skating as much, and it was a long journey back to where I am today.
"I'd have loved for him to see this. But he is here," she smiles. "For sure. He'd probably say, 'This is just another game. Go out there and show people what you can do'."
Johnston came through a lengthy selection process to earn the right to officiate at Sochi 2014.
Having taken charge of Canada-Finland, Russia-Sweden and Russia-Switzerland so far, she then had to be chosen once more for the highest honour available, refereeing the Olympic final.
"The build-up's been very intense. We had a selection camp in Lake Placid (in the United States), fitness tests, skating tests, rules tests. I know I'm in the best shape I've been in, in my life.
"Even if I hadn't got this game, the fact that I made it here after being pretty low - pretty down in 2011 when I lost dad - is definitely worth it.
"Over the next day or so, I'll spend quite a bit of time on my own. Just focusing, getting my head in the right place, so I'm in the right frame of mind and can give my absolute best.
"There will be nerves when we hear the crowd, but when the puck drops, it's game time."
Life back home in the United Kingdom, as a referee in England's Premier League, can feel like a world away while under the Olympic spotlight.
Johnston, known as Joy Tottman until she married husband Scott in October 2013, has long been a fixture on the Premier League circuit.
She makes a five or six-hour round trip to get to games each weekend, in destinations such as Bracknell, Slough, Milton Keynes and Peterborough.
Like any other referee, not everybody appears grateful. When asked what she has left to achieve, now she is a gold-medal-game referee, her answer is simple: "Probably win over the British public so they cheer when I go into a rink, instead of boo."
But she amends that answer.
"I don't know if I want that. I'm a ref, they pay their money to boo me. That's fine."