Sochi 2014: Coleraine skater McCorkell pleased despite exit
Last updated on .From the section Winter Olympics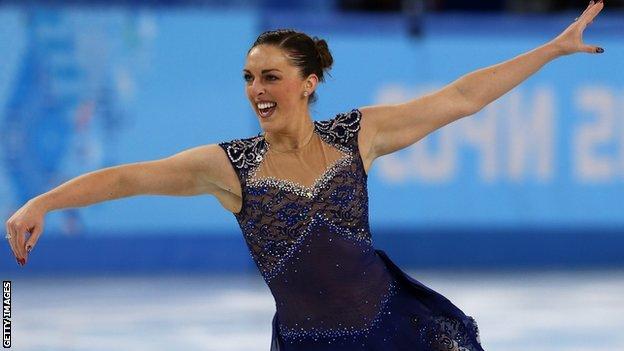 Jenna McCorkell insisted she was not disappointed with her Winter Olympics performance on Wednesday despite narrowly missing out on progressing to Thursday's free skating.
The Coleraine woman ended one place and just 0.22 of a point outside the top 24 qualifiers for Thursday's event.
"I skated the best I could and I performed all the elements," said the 27-year-old.
"I didn't fall. I did my best, so I was pleased with it."
In her previous Olympics four years ago in Vancouver, McCorkell endured a chastening experience as she fell three times during her opening short programme as she ended way off qualification for the free skate.
"I have proved it twice now, so that Vancouver cloud can go away and leave me alone," added McCorkell, who had performed well in scoring a season's best of 50.09 in the Sochi team event on 8 February.
"It is always one of those that is going to hang over you and it has been playing on my mind a little bit.
"Having the team event (in which GB failed to make it to the free skate as well), it was really great for me to be able to get out there on the Olympic ice under that pressure and really put down what I had to do.
"Then again today, a little cloud was coming back a little bit this morning, and it took a bit of work to push it away again.
"The triple toe wasn't as perfect as it possibly could have been, but it was there, it was done."
A repeat of her team event score would have been enough to have progressed to Thursday's action but it was not to be as she finished .22 behind final qualifier Norway's Anne Line Gjersem.
Eleven-times British champion McCorkell is expected to retire from competitive skating after next month's World Championships in Saitama, Japan.