Sochi 2014: Great Britain target best Winter Olympics medal haul
By Ollie Williams
BBC Olympic sports reporter in Sochi
Last updated on .From the section Winter Olympics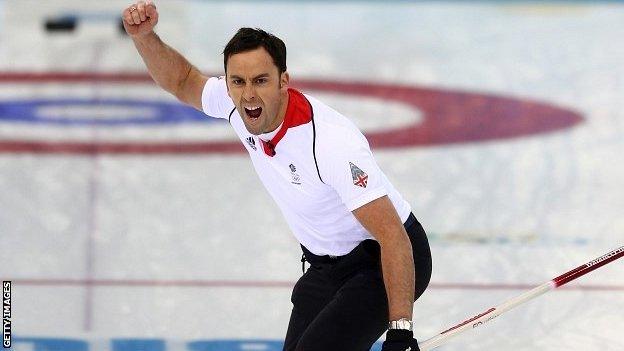 Great Britain will make the Sochi Games the most successful Winter Olympics in their history if they can win two more medals on Friday.
Team GB already have three medals and the male curlers are guaranteed at least silver in their final against Canada from 13:30 GMT.
Short track skaters Elise Christie and Jon Eley also have medal chances.
Britain's previous best medal haul at a Winter Olympics was the four they won at the inaugural Games in 1924.
Britain have hit their three-medal target thanks to Lizzy Yarnold (skeleton gold), Jenny Jones (snowboard slopestyle bronze) and GB's female curlers, who won bronze on Thursday.
UK Sport has invested £14m to help Britain's teams at the Winter Olympic and Paralympic Games, and it believes Sochi could mark a breakthrough for British sport.
"In my 20-plus years of involvement in British winter sport, I have never seen an Olympic team better prepared, confident and with such high expectation of themselves than this one," said director of performance Simon Timson.
"British athletes, whether they be summer, winter, Olympic or Paralympic, have belief in their ability, and this Games could prove to be a real turning point for us as a winter sports nation."
If the curlers were to win the Olympic title, Britain would leave a Winter Games with multiple gold medals for the first time in their history. It would also be Britain's 11th gold since 1924.
The men's curling team lost to world silver medallists Canada in the round-robin stages but are determined to make amends in the final, which will be shown live on BBC Two from 13:30 and then BBC One from 13:45.
"You only get one opportunity in a lifetime to win a gold medal like this," said skip David Murdoch.
"We're going to seize the day, fight to the absolute last and hopefully have that shot to win."
Team-mate Scott Andrews added: "We're confident. Against Canada in the round-robin we only missed out by a millimetre so, if we have the chance again, hopefully the millimetre goes in our favour."
Christie has struggled so far at Sochi 2014, having been disqualified twice in her other events and suffering online abuse in the aftermath.
However, she is a world bronze medallist in the 1,000m, having dominated the world rankings for much of the past two years, and looked in impressive form as she came through Tuesday's heats.
She competes at 16:45 GMT, just after Eley, who carried Team GB's flag at the opening ceremony, goes in the men's 500m.
Britain's four-man bobsleigh team, piloted by John Jackson, were the fastest sled in their latest training run on Thursday and may yet contend for medals on Sunday, the final day of the Games.
Britain's Winter Olympic gold medallists
1924: Men (curling)
1936: Men (ice hockey)
1952: Jeannette Altwegg (figure skating)
1964: Tony Nash & Robin Dixon (two-man bobsleigh)
1976: John Curry (figure skating)
1980: Robin Cousins (figure skating)
1984: Jayne Torvill & Christopher Dean (figure skating)
2002: Women (curling)
2010: Amy Williams (skeleton)
2014: Lizzy Yarnold (skeleton)