Sochi 2014: Billy Morgan targets podium at 2018 Games
Last updated on .From the section Winter Sports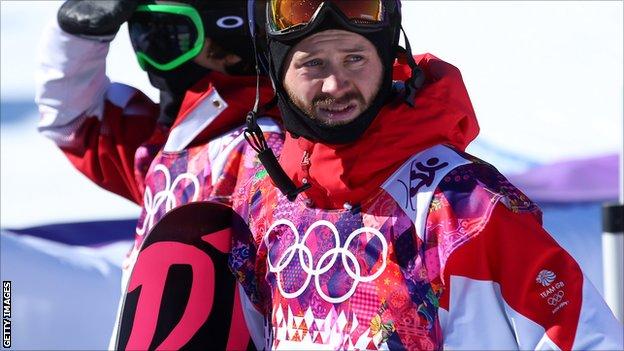 Snowboarder Billy Morgan has no immediate plans to have surgery on his injured knee and is targeting a medal at the 2018 Winter Olympics.
He went into the Games with an anterior cruciate ligament injury to his right knee.
"If I'm in one piece and my leg has not fallen off I'll be back in PyeongChang," he told BBC South Today.
Morgan says he is delighted to have raised the profile of the sport he loves and hopes he can make the podium in four years' time.
"I was really happy, I could have landed on my feet and got on the podium but I'm glad I went and showcased what I can do and showcased the sport," he said.
"There are a lot of competitions before 2018 but it's all working towards the Winter Olympics.
"I never realised I had at the potential to do it. Previously every time I went to a contest I just hoped I didn't make myself look stupid and I wanted to do well enough to do alright.
"It turns out I could have done really well and made it onto the podium in the Olympics, so that has given me extra confidence going into contests."
Morgan returns to competition with the US Open and leaves for the United States on 2 March. He has four competitions in March but says he will continue to compete with a cruciate knee ligament in his right leg.
He also revealed he may not now have surgery on his knee until after he retires from the sport.
"My knee was fine," he said "It's been other parts of my body that have been a problem. I had a tweak in my ankle, my left knee hurts a bit and other bits and bobs, so that took my mind off it.
"My knee brace has been working really well and I wouldn't have been able to it without that.
"I have to have the surgery at some point.
"I'll either wait until I go into hospital for something else and have it done at the same time, which is inevitably going to happen at some point, or I'll have it done after I finish snowboarding."