Vanessa-Mae: 'Serious doubts' over Sochi qualifier in Slovenia
Last updated on .From the section Winter Sports
Violinist Vanessa-Mae's qualification for the Sochi Winter Olympics is at the centre of an investigation over doubts about the validity of the event, says the Slovenia Ski Association (SAS).
Four Slovenian ski officials have been suspended but SAS director Yuri Zurej said no athletes are facing an inquiry.
"There is serious doubt about what happened in the race," said Zurej.
But, in an interview with Radio 5 live, he added: "We must state clearly that there is absolutely no proof any athlete, including Vanessa, was knowingly involved in any activities that would breach any of our rules or those of the International Ski Federation (FIS)."
Mae finished last of 67 competitors in the giant slalom, 50 seconds adrift of winner Tina Maze.
Mae's manager was not immediately available for comment.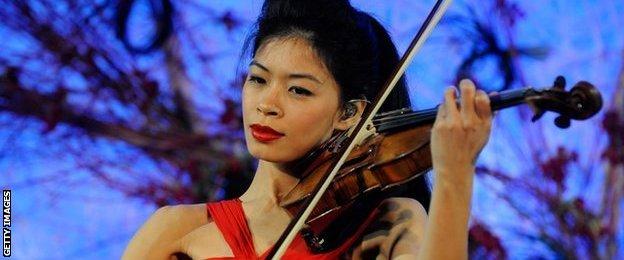 Zurej said a number of irregularities had been discovered.
Among them, the SAS was incorrectly named as co-organiser of the event, while one competitor was recorded to have finished fourth despite not actually being present.
"There are many doubts," added Zurej.
"When we checked the competition and all the data, we discovered that, on the results list on the second day of the competition, in fourth place there was a girl not even physically present at the course.
"Another example was of a girl who told us she fell in the race and then slowly continued to the finish line, but was recorded as finishing in second place.
"We were also told the weather conditions were impossible to compete in. but still the race was done."
The FIS says it could not comment until it had received the SAS's official report, which it expected to receive next week.
A spokesperson for the International Olympic Committee said it was "primarily a matter for the Slovenian Ski Federation and eventually FIS".
Mae competed at Sochi for Thailand under her father's name Vanakorn.
Vanessa-Mae - from child prodigy to Olympian
A skier since the age of four, it was her ambition to compete in the Olympics for more than 20 years.
Made her international professional musical debut at the age of 10 in 1988 and the same year made her concerto debut.
Released her first album, Violin, when she was 13 years old.
She has amassed worldwide record sales in excess of 10 million.
Mae, a British citizen, was born in Singapore to Thai and Chinese parents and moved to England at the age of four after her mother married a British lawyer.
She earned fame during her childhood with a series of performances on British television before going on to launch a successful solo career with album sales running into millions.