Winter Olympics 2018: 'Russia expects team at Pyeongchang'
Last updated on .From the section Winter Olympics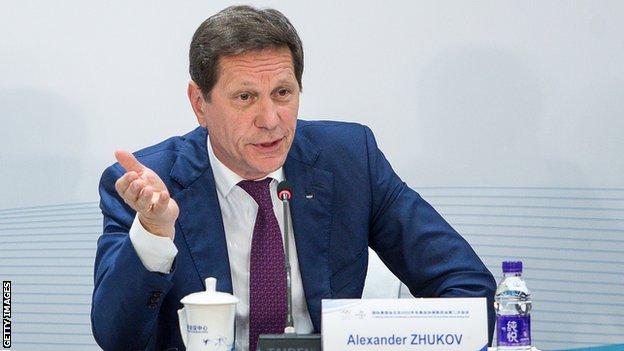 Russia expects to compete at the Winter Olympics in Pyeongchang next year, the country's Olympic chief has said.
Last year, an independent report commissioned by the World Anti-Doping Agency (Wada) found evidence of state-sponsored doping in the country.
The International Olympic Committee (IOC) is yet to issue sanctions, but 17 national anti-doping organisations want Russia banned from the 2018 Games.
However, Alexander Zhukov said Wada "didn't support this position".
The president of the Russian Olympic Committee added: "It's very important that it's not the position of Wada. This is just the position of several Nados.
"We can also point that several members of the IOC criticised these 17 Nados on this position."
Asked whether he expects Russia to have a team at the Winter Games, which take place from 9-25 February in South Korea, Zhukov said: "Yes, sure."
Two commissions set up in December have still not concluded, with speculation that Russia could face a heavy fine and escape a ban.
IOC vice-president John Coates said his organisation was acting as quickly as possible, but needed to gather all of the evidence.
Wada president Sir Craig Reedie said he understood the frustration of the 17 Nados which want Russia banned.
However, he added: "I don't think it's particularly helpful in the current situation that protecting clean athletes involves people looking back as opposed to looking forward.
"It's quite difficult to get a country like Russia to change things quickly. This takes time."
Zhukov said he hopes compliance will happen in November.
'First Sochi athletes may soon be charged'
Meanwhile, a first batch of athletes suspected of having been part of a Russian doping ring at the Sochi 2014 Winter Olympics may soon be charged with doping-related offences, according to the head of the investigation.
IOC member Denis Oswald said evidence gathered so far will be combined with results of tests to determine whether urine and blood sample bottles had been tampered with, to replace positive samples with clean samples.
"In a few days we will have the results of the first batch of 50 bottles and then we can proceed," Oswald said.
He did not say how many athletes could be involved.
Background
Canadian law professor Richard McLaren's 144-page independent study concluded more than 1,000 Russians benefitted from the doping programme across 30 sports.
As a result, Wada recommended all Russian athletes be banned from competing in the Rio 2016 Olympic Games.
But the IOC chose not to impose a blanket ban, instead leaving decisions on whether Russians could compete to individual sporting federations.
In total, 271 Russians competed in Rio.