Winter Olympics 2018: Penny Coomes and Nick Buckland bid for qualification
By David McDaid
BBC Olympic sports reporter
Last updated on .From the section Winter Sports0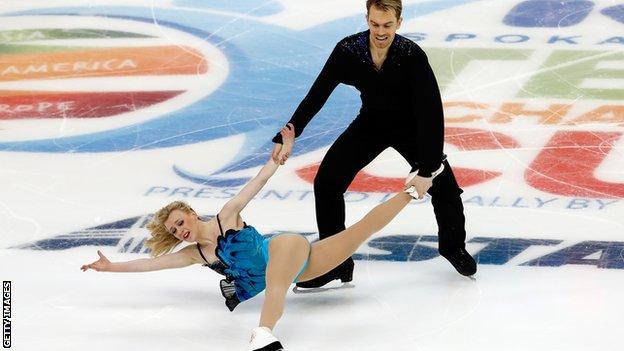 British ice dancing couple Penny Coomes and Nick Buckland are hopeful their injury problems are behind them as they prepare for their final chance of Olympic qualification.
The pair will compete in this weekend's Nebelhorn Trophy in Germany knowing 16 countries who have yet to qualify for the Winter Olympics in ice dancing will be vying for the final six places in Pyeongchang.
"We need to get our spot but I want to win (the entire competition)," Coomes, who is now able to compete again following a shattered kneecap, told BBC Sport.
"I want to come back and put a stamp on it and say: 'don't overlook us', because we're ready."
The British duo were forced to miss their primary chance to qualify at the World Championships after Coomes shattered her knee in a training accident in June 2016.
The two skaters only returned to competitive action in August when they won the IJS Sheffield event.
"I wouldn't say I'm back to normal, but I'm better than I was a couple of months ago," said Coomes.
"When I'm on the ice I can perform and I forget that I have a knee injury - it's just afterwards I have to do a lot of maintenance.
"I feel like one of those wind-up toys and I'm ready to be released and get going again.
"But this is what we've worked so hard for; this is what all the ups and the downs have been for."
Buckland, who required heart surgery before the 2014 Winter Games in Sochi, underlined the importance of a strong showing on the way to qualification for South Korea.
"This competition is a big deal. We've not only got to qualify but show people we're stronger than we were before," he said.
"There was a possibility we might not even be here. Now we're confident going into this competition and we're expected to qualify.
"But we want to put in a good performance to set us up for the rest of the season towards the Olympic Games."
In Germany, the couple will perform their short dance on Thursday and will know their fate after their free dance on Saturday.
For that first routine they have been working with GB's former Olympic champion Christopher Dean.
"That's a huge part of our comeback this season and he's given us some great material to work with," said Buckland.
"Chris is coming to Germany and it's a really great confidence boost to have him by our side and offering his advice.
"We've put the time and work in with him to put together something we're really proud of."
As well as Coomes and Buckland in the ice dance category, GB have qualifying hopes in three other disciplines in Germany.
Graham Newberry and Natasha McKay will each go for one of six Pyeongchang places in the men's and women's singles respectively, while Zoe Jones and Christopher Boyadji are hoping for one of four spots in the pairs event.