Winter Olympics 2018: Ice dancers Penny Coomes & Nick Buckland named in GB squad
Last updated on .From the section Winter Sports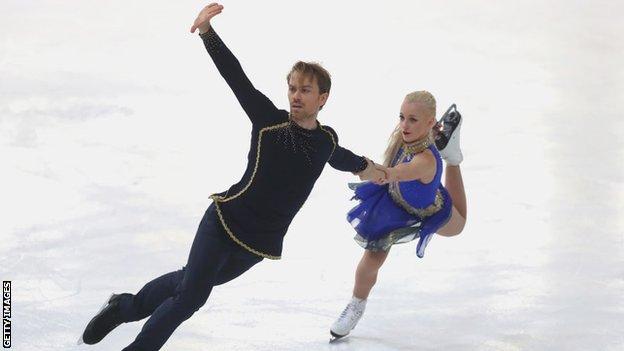 British ice dancers Penny Coomes and Nick Buckland will compete at the 2018 Winter Olympic Games after winning their final qualifying event.
The pair registered a career-best score of 177.13 points at the Nebelhorn Trophy in Germany to book their spot in Pyeongchang, South Korea next February.
On Tuesday, their place was confirmed by the British Olympic Association.
It comes 15 months after Coomes was told she would not compete again after shattering her kneecap in training.
Next year's event will be the third Winter Games the 28-year-olds have competed at together.
The American-based Nottingham pair were forced to miss their primary chance to qualify at the World Championships and only returned to competitive action in August, when they won the IJS Sheffield event.
They scored 105.34 in the free dance on Saturday in Germany to add to their 71.79 short dance score from Thursday.
Silver medallists Kana Muramoto and Chris Reed of Japan and third-placed Kavita Lorenz and Joti Polizoakis of Germany also earned Olympic spots for their performances.