Lamin Deen backs Lee Johnston as head coach despite racist comment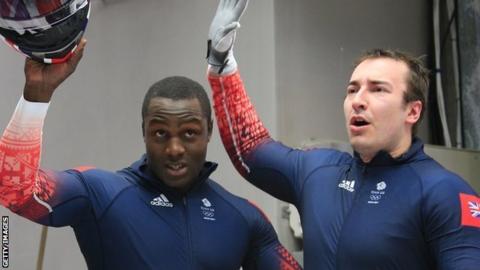 Olympic bobsleigh pilot Lamin Deen has backed the appointment of Lee Johnston as British Bobsleigh head coach despite him making a racist comment in 2013.
Johnston, a 45-year-old three-time Olympian, was disciplined and warned about his future conduct following a complaint by athlete Toby Olubi.
Deen said Olubi, 30, and Johnston had resolved the issue "a long time ago".
"I was asked for my view [on Johnston] and he would have been my choice from the early days," he told BBC Sport.
"I know for a fact that nearly 100% of the team here are behind him because he's firm, fair, transparent and knows what he's talking about, which is what we need to be successful."
A complaint was made in 2014 relating to a racist remark Johnston made in the summer of 2013. The matter was formally investigated and dealt with at the time.
The British Bobsleigh and Skeleton Association (BBSA) said in a statement to the BBC: "British Bobsleigh, the then governing body for the sport, agreed that the matter should be referred to the British Athletes' Commission - the appropriate authority for dealing with such matters - and British Bobsleigh's policies were deemed to have been satisfactory and implemented appropriately.
"The coach was reminded of his responsibilities at the time and warned as to his future conduct. The BBSA has not since been aware of any repeat behaviour from the coach involved."
The BBSA hopes Johnston - who competed in three Winter Olympics between 1998 and 2006 - will help turn around the fortunes of its bobsleigh set-up.
In June, the BBC revealed GB athletes had written to British Bobsleigh to complain of "bullying, racism, sexism and discrimination" as well as a "toxic atmosphere".
Johnston's predecessor, Dominik Scherrer, resigned in September, less than five months before the 2018 Pyeongchang Winter Olympics. Performance director Gary Anderson left his position in August, having stepped down from some duties to deal with "health issues".
There is no suggestion of any wrongdoing by Scherrer or Anderson.
BBSA chief executive Richard Parker then quit following the revelation funding support for the GB women's bobsleigh team was to be withdrawn after an overspend.
Deen says he could "relate" to some claims of racism made in the past and that the "tough" few months for the squad had left him "worried".
However, the 36-year-old Sochi 2014 Olympian, who is in Whistler, Canada, for pre-season training, believes the team is now moving in the right direction.
"When morale is not high as we saw last season - when we went into freefall - there's nothing you can do about it, but now I believe morale is the highest it's been since Sochi," he said.
After a promising start to the last campaign, with the GB team challenging for a top-10 finish, their results slumped significantly in the second half of the season.
Deen feels GB women's number one pilot Mica McNeill raising over £30,000 for her World Cup campaign through crowdfunding has been a "real boost" to the squad.
"It was tough for us to see what she was going through, but she's a robust bobsledder and has made a huge impact by pulling it off," he said.
"If they weren't here it would be a missing part of the puzzle, so hopefully everything will soon be back to normal."
Deen says there are still "remnants" of negativity following the "difficult" summer months, but the early signs in pre-season training are promising before Britain's bid to win a first Olympic medal since 1998.
The first bobsleigh and skeleton World Cup of the season is in Lake Placid, USA, from 9 November with the Winter Olympics starting on 9 February.