Russian Olympic athletes warned not to dress like flag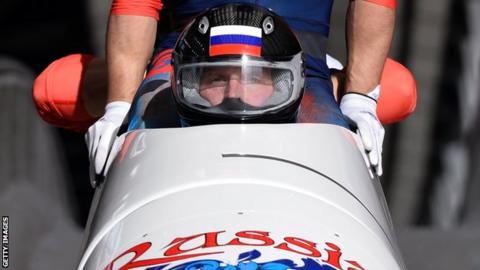 Russian athletes taking part at the Winter Olympics as neutral competitors have been warned not to replicate their country's flag using their kit.
"Separate items of clothing cannot create a tricolour" is one of 13 International Olympic Committee stipulations.
The Russian emblem and coat of arms is not permitted on kit, with a generic text proposed to replace it.
Russia is banned after allegations of systematic doping at Sochi 2014.
The country, which was blocked from sending a full team to Rio 2016, has been accused of operating a state-sponsored regime that included tailored drugs programmes and urine samples being switched.
Individual athletes can still compete providing they can meet anti-doping criteria.
The IOC stipulates that athletes' kit can only carry the words 'Olympic athlete from Russia' or 'OAR', while officials' clothing can only feature 'OAR'.
And the uniforms cannot consist of all three colours of the Russian flag, while the red and blue cannot match the shade used in the flag - the IOC suggests "that these are darker in colour".
The 2018 Winter Games, which will be staged in Pyeongchang in South Korea, start on 9 February.