Winter Olympics : US skiers use VR goggles & brain zapping headphones
Last updated on .From the section Winter Olympics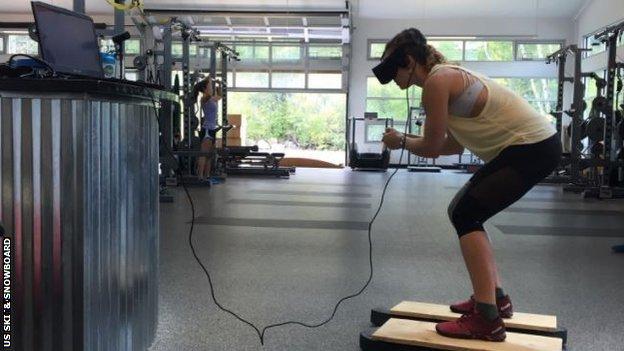 XXIII Olympic Winter Games
Venue:
Pyeongchang, South Korea
Dates:
9-25 February
Coverage:
Watch live on BBC TV, Red Button, Connected TVs, BBC Sport website and mobile app.
It may sound like science fiction, but US skiers have been using virtual reality and headphones that zap the brain, to gain a competitive edge at the Winter Olympics.
The US are sending a star-studded team to South Korea with the likes of Olympic champions Lindsey Vonn and Mikaela Shiffrin competing.
US Ski team high performance director Troy Taylor told BBC Sport about the cutting edge technology the team has used as they go for gold in Pyeongchang and you can see how it works below.
"It's about the small gains," said Taylor, who is originally from Bournemouth. "There is sometimes a few tenths of a second between first and 10th place.
"Skill acquisition and motor learning is the holy grail of sports science, the ability to learn faster than others is essential."
VR gives 'mental access' to Olympic slopes
By the time the Olympics starts on Friday, many of the world's top skiers will have had only a handful of runs on the courses in the Taebaek mountains.
But not the US team.
They have spent the past year getting acquainted with the course, memorising the twists and turns and gate positions, all thanks to the use of 360-degree software and virtual reality headsets.
The Jeongseon Alpine Centre will host the downhill and Super G events and also held World Cups in 2016 and 2017.
That allowed the US team to film the course with the help of STRIVR's 360-degree video, which they watch on Oculus Rift and Samsung Gear headsets.
They captured a run on the slopes, allowing athletes to re-live the course over and over again, giving them "mental access" to it.
You can watch an example of that footage below.
Athletes have also paired the headsets with balance boards to mimic the feeling of being on the slopes and move in time with the video.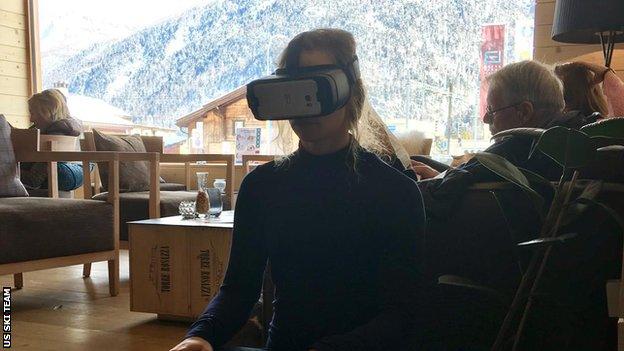 "The Olympics is the biggest event in an athlete's life and it doesn't take a genius to work out that skiing on a slope six times is not optimal time," said Taylor.
"The clear advantage of VR is that it is a great way to help athletes get more used to and learn specific courses, which is an obvious performance benefit.
"They feel they know the courses they will race on better, so when they come to ski on it during a race they enter the start gate with an increased confidence level. That is a big part of competition, having the confidence to attack parts of the course where you can find time.
"Athletes can watch in their hotel rooms and get a better understanding of what the course presents to them and help them with visual technique."
It doesn't stop there though, they have even been able to manipulate the footage, changing the weather and light.
Brain stimulation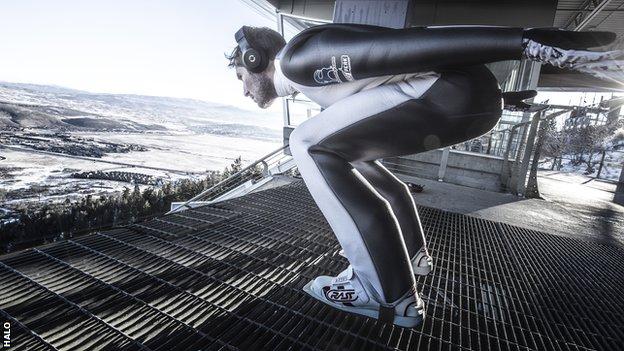 Another piece of equipment that all athletes at the US Ski team's centre of excellence in Utah have had access to is the Halo Sport headset.
What looks like a pair of headphones, actually has soft foam nibs that transmit electrical currents to the motor cortex, the part of the brain responsible for movement.
The theory is that stimulating the motor cortex will accelerate the gains in training. When paired with high quality training it is believed this can increase strength, explosiveness, endurance, and muscle memory.
The technology called transcranial direct current stimulation is not new and has been used to help stroke victims and patients with Parkinson's disease.
The US Nordic combined skiers have had the most success with Halo, seeing improvements in their ski jumping during a trial.
"Jumpers experienced less wobble and applied more force in their jumps," said Taylor.
"Halo offers a unique and new technology with the ability to increase the brain's ability to learn new skills, which has never been done before."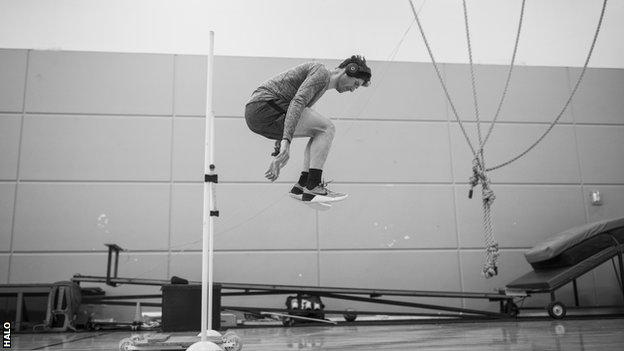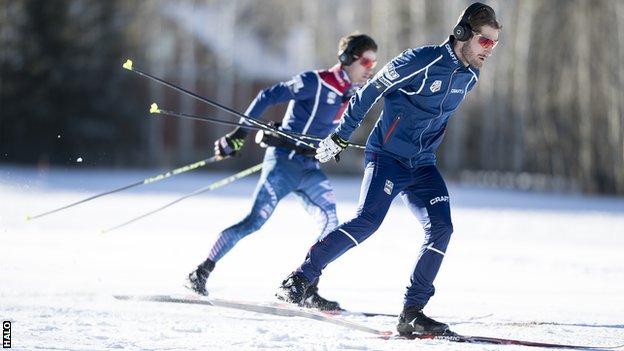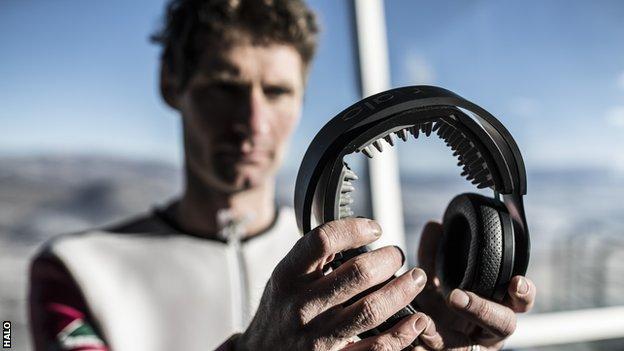 A third bit of kit being used is the Vima REV glasses.
The strobe glasses flicker between opaque and clear. They can reduce vision in both eyes by showing action intermittently or blocking out vision in one eye.
"The glasses have this shutter, taking vision away and giving it back really fast. You can adjust it and take more information away," said US men's alpine head coach Sasha Rearick.
"Taking information away in a strobe fashion wakes up the brain to take and use information it does see and process it faster and better."
They have seen an increase in performance in strengthening skiers' non-dominant eye.
The theory is that everyone has a dominant eye and that may cause skiers to develop a weaker turn on one side. To fix that the glasses strobe the non-dominant eye to help strengthen it.
It can also improve vision processing, visual attention, and the ability to anticipate the timing of moving items.
You can see how the glasses are used in training in the video below.
No funding? Just innovate
The 10,000-hour rule theory, claims the key to being world class in a skill is to practice it for 10,000 hours, but Taylor says it is almost impossible for skiers to reach that mark.
"We try and get on the snow 150-200 days a year and are chasing snow around the world," said Taylor.
"Each time we are on the snow we get maybe six to 10 training runs, for about 30-60 seconds at a time, so that is only three to 10 minutes a day. Times that by 150-200 days and it is roughly 10-20 hours a year - not even close to 10,000 hours.
"So how can we learn faster than other teams? How can get more out of training sessions?".
There is also the issue of funding in US Olympic sport.
Unlike its competitors, the US Ski team does not receive any government funding. Instead it relies on private donations and sponsorship.
"To make up the funding difference we have to be innovative and experimental and take advantage of assets like Silicon Valley, research universities and sponsorship, to gain advantage on a global scale, " added Taylor.
"We have to innovate and try new things."