BBC Sport - Dame Katherine Grainger: Winter games medal target ambition is 'huge but realistic'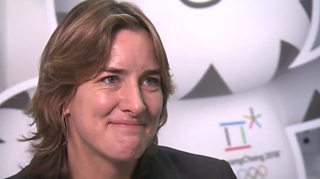 Medal target ambition is 'huge but realistic' - UK Sport chair
Great Britain are aiming for their most successful Winter Olympics in history after UK Sport set a target of at least five medals from February's Pyeongchang Games.
The current record is a four-medal haul set in 1924 and 2014, although Team GB could yet earn a fifth medal from Sochi after three Russian bobsleighers were banned for doping.
The GB Paralympic team has been set a target of seven medals for March's Winter Paralympics.
UK Sport has set a target range for the Olympic team at four to 10 medals, and six to 12 medals for the Paralympic team.