Winter Olympics 2018: Ex-GB skeleton racer David Swift on move to Royal Air Force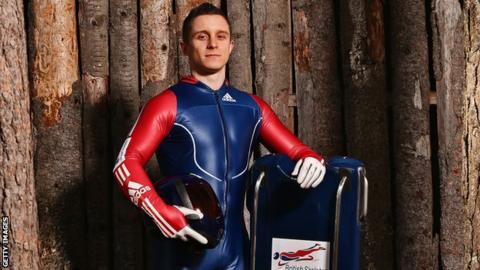 XXIII Olympic Winter Games
Venue: Pyeongchang, South Korea Dates: 9-25 February
Coverage: Watch live on BBC TV, Red Button, Connected TVs, BBC Sport website and mobile app.
"I certainly miss the adrenaline side of things that came from sliding down a hill like a nutter."
It's not the sort of sentence that most people say, but then David Swift's life has not necessarily been conventional.
After a decade in the British skeleton squad, he retired from the sport in 2016.
Despite winning a national title in 2008 and a silver at the World Junior Championships that year, he never slid for Great Britain at a Winter Olympics.
And as some of his friends prepare to go for gold in Pyeongchang, Swift will be watching from the barracks at RAF Cranwell as he prepares to finish his officer training with the Royal Air Force.
It's a big change for Swift and a slightly unusual one for a British winter sportsman - usually the armed forces provide athletes for Great Britain's winter sports teams, not the other way around.
But being unconventional is not new for a man from the Devon town of Newton Abbot - a place where the only skeletons to be found are in church graveyards or doctors' surgeries.
"My first application for the RAF was before sixth form," he told BBC Sport.
"The second one was just after I'd been selected for the skeleton team, so I wouldn't have been able to give the amount of time I'd have needed to for my job.
"To go the other way is not the conventional way to do it, there are an awful lot of athletes that get into the forces and then come into their sport."
'Sensible life decisions'
Colour blindness means Swift's hoped-for new role in the RAF will be based firmly on the ground.
But he says his decision to quit the sport midway through an Olympic cycle was the right one, even though watching events from South Korea on television may be tough to take.
"I did have to be sensible with my life decisions moving forwards," he said. "There are age cut-offs for jobs within the RAF and that was something that I always wanted to do.
"I guess the idea that I could have been there is a little bit of regret, there's a part of me that wonders 'what if', but at the same time I wouldn't change the position I'm in now for the world.
"The experiences that I've gone through have been really eye-opening and I'm getting paid really well compared to what skeleton used to be, which was doing five-hour shifts in a supermarket in-between training sessions.
"I don't know if I'll watch the opening ceremony, because that is something that I would have really been looking forward to, but in terms of the actual sliding I'll definitely be watching and supporting," he added.
"I'm seeing a lot of Instagram feeds and Snapchats of essentially my mates who are at the Games now.
"It's a bitter pill to swallow in that sense, but I'm getting a real insight that the majority might not."
A possible comeback in time for 2022?
Joining the forces may not mean the end of Swift's Olympic dream.
He would be 37 when Beijing 2022 comes around, but with New Zealand slider Rhys Thornbury also a member of the RAF, the service does provide a route back into the sport for him.
"I'll certainly be sliding for the RAF inter-forces wise and if the opportunity arose to try to get to Beijing, I'd gladly take it," said Swift.
"Kristan Bromley got to the Games at 40," he adds of the British former world champion who slid at four Winter Olympics.
"Going from the competitive environment, it'd be nice to go back to the fun side of it, and if that drives something further down the line and it was accommodated, I'd certainly have a crack if I was given the opportunity."